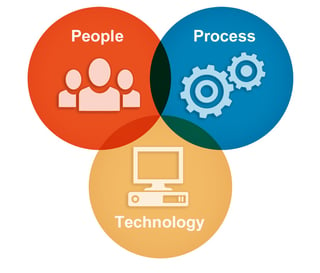 As the pace of business accelerates along with technological advancements, it comes as no surprise that the technology component we often speak about in operational excellence is taking on additional importance and becoming the primary focus.
Within the five established pillars of operational excellence as defined by LNS – Energy, Quality, Operations, EHS, and APM, technology solutions are becoming more integrated within the enterprise. Enterprise Quality Management Software (EQMS) has allowed organizations to better view and instill quality across the enterprise; likewise, enterprise sustainability solutions have helped companies better "bake in" the culture of sustainability across the enterprise as well as quantify the potential ROI, customer sentiment, and automation of compliance initiatives.
As the major tech trends of Big Data Analytics, Mobile, and the Industrial Internet of Things (IIoT) become more and more prevalent, we're seeing exciting examples of increasingly autonomous, predictive, and accurate technology solutions being leveraged across numerous industries.
Nowhere is this more prevalent in practice currently than within the realm of Asset Performance Management (APM). Many companies today have begun to move toward Smart Connected Assets, and with it—new business models and revenue streams, such as selling capacity instead of capital.
In order to help manufacturers as they navigate this new terrain, LNS Research has published its Asset Performance Management Solution Selection Guide, examining 20 of the top APM vendors by key criteria such as company sizes served, functionality delivered, geographies, and others. Each week we're highlighting a different vendor in the guide, and today's post is about Bentley Systems.
Diving into AssetWise's APM Capabilities
Headquartered in Exton, PA with regional bases in Dublin, Ireland, and Beijing, China, Bentley Systems was founded in 1984 with a PC-based CAD application called MicroStation. The company's 2012 acquisition of Ivara—a Canadian Enterprise Asset Management (EAM), APM, and Reliability Centered Maintenance (RCM) applications provider—thrust Bentley Systems into the APM business, and its subsequent acquisition of C3Global, a UK provider of predictive analytics and modeling software (Amulet), bolstered it.
Bentley Systems products include the AssetWise Suite (APM Asset Health Monitoring, APM EAM Connectors, APM ODC Connector, APM Strategy Development, Amulet Operational Analytics, Ivara EAM, Engineering Content Management), Optram Railway Maintenance Decision Support, Exor Asset Manager, and Inspect Tech Bridge Asset Management.
The company has a unique position within APM as the only engineering software provider to offer a rich set of APM solutions in APM, RCM, and EAM capabilities. Bentley offers as seamless a transition from the design-and-construct phase for a large capital project in asset intensive industries to the operate-and-maintain phase. APM and EAM functionality was acquired with the acquisition of Ivara, which began in the steel as well as other asset intensive industries in the late 1990s. Therefore, it has had ample time to develop a functionally complete product set on both the APM and EAM sides prior to Bentley acquisition.
The company has also recently acquired UK-based C3global and its Amulet Operational Analytics solution, which has better positioned it to better leverage information provided through the IIoT and to support Smart Connected Assets.
With its solution capabilities, a global presence, and support infrastructure companies within Utilities, Mining, Oil & Gas, Infrastructure, and Heavy Transportation should consider Bentley's product offerings seriously.
A Deeper Look at Bentley and its APM Offerings
For a deeper dive into Bentley, including company sizes served, geographies covered, specific functionalities included, industries served, technology delivery platforms and models, time to solution value, and more, be sure to access the LNS Research APM Solution Selection Guide.
The guide also gives a deeper look at Bentley's attributes by total coverage areas and current and emerging strengths.
Tags: Operational Excellence, Industrial Internet of Things (IIoT), Asset Performance Management (APM)