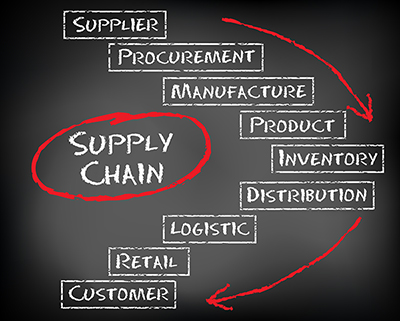 This week, I felt inspired to publish a round up that is primarily focused on one topic: Supply Chain. Personally, I find this topic to be nothing short of fascinating, one that is currently a growing concern for many companies. Organizations are focusing on improving their supply chains in order to adapt to technological advances, environmental change, and the effects of globalization.
Could Consumer Boom in China, India Spark Food Shortages in U.S., Other Regions?
A must read to grasp the understanding of "The Boomerang Effect". Written by the Boston Consulting Group, and published by Supply Chain Brain, this article not only provides insight into how interconnected the world is but simultaneously delivers current knowledge of global relationships. Long story short: China and India are experiencing a recent sense of wealth resulting in the shift from traditional diets toward a more western array of food (from grains to meats) and an increase in water consumption. Fun fact: Chinese born in 2009 will consume 38 times more than those born in 1960. No water, No feed, No Meat.
Tweet this post | Share on LinkedIn
We've lived through the days when companies used to compete solely based on their products and services (quality and price). Today, due to globalization, companies are now competing on the strength of their supply chain, i.e. getting your product to the consumer before the competition does. Companies can no longer stand solo, collaboration is a must in order to increase speed/time to market, promote innovation, and gain market share. This Supply & Demand Chain Executive articles provides insights into creating a lean supply chain, high performing supply chains in practice, and the formation of collaborative business models that have won. Supply Chain vs. Supply Chain.
Tweet this post | Share on LinkedIn
It was a busy week here at LNS. We hosted our first Global Quality Advisory Council (GQAC) meeting, and we launched our energy management research library. You can expect to see an increase in the amount of energy related content being published. Many people have found great value in our quality management research, especially the benchmark data and information regarding quality metrics. In a blog post from this past week, Matthew Littlefield provides an overview of energy metrics and discusses best practices around leveraging such metrics within organizations. Success with energy metrics.
Tweet this post | Share on LinkedIn
A shift has occurred moving from a traditional forecast-based supply chain to a demand driven supply chain due to globalization, commoditization, etc. DDSC can be broken down into its two concepts of "demand side" and "supply side". The demand side focuses on capturing the demand signal closer to the source while the supply side has the responsibility of becoming more agile and responding faster once demand is known. DDSC can be adopted by every industry however the methods of doing so may differ, with varying levels of emphasis on either the demand side or the supply side. IndustryWeek published an article by Michael Lipton of SAP that discusses such disparities through examples within the Consumer Packaged Goods (CPG) and High Technology industries. Read more.
Tweet this post | Share on LinkedIn
This MIT case study may give you a whole new perspective on Ocean Spray Cranberries, or at least get those wheels turning about how your organization can create a more sustainable image. Over a twelve month period, Ocean Spray was able to not only save 40% in their transportation costs, but also reduce greenhouse emissions by 20%. MIT provides a great example of how a company not only is driving down their costs, but concurrently improving sustainability. Read this case study.
Tweet this post | Share on LinkedIn
You Might Also Be Interested In:
The LNS Weekly Industrial Round Up 3/10/13
Supplier Quality Management: A Risk Based Approach