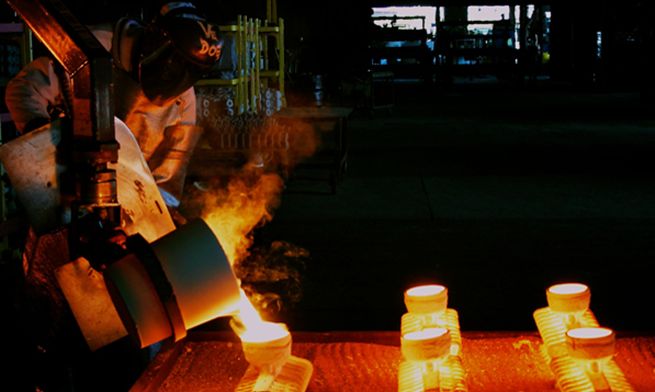 This week's compilation includes discussions on the commonalities between Star Trek, golf, manufacturing, and private and public sector collaboration. Quality, both from a product and systems standpoint, plays an important role in the connection between each of the following articles, and more importantly, as you dive into the topic specifics.
Aside from contrary belief, Tim Lozier of ETQ is not a "trekky". He is simply hooked on Quality Management and finds any example to create a real-life analogy. This article is the first of a two part series in the evaluation of which type of quality management system the USS Enterprise may have implemented through its trek through the stars. Lozier asked himself which QMS components would be critical to Kirk and crew. Take a journey along the discussion of document control, nonconformance management, and corrective action. Star Trek: Part 1.
Tweet this post | Share on LinkedIn
In Tim Lozier's last blog post he provided the foundation to how the Star Trek USS Enterprise may have used a Quality Management System to streamline processes, to mitigate risk, and to foster continuous improvements. Lozier further develops the aspect that the original show did not cover, which was how the Star Trek crew managed to keep a Quality Management System throughout their exploration. In this sequel, the discussion moves on to employee training, risk management, and reporting. Lozier concludes these partner articles by stating that QMS can "improve operations, manufacture high quality products and boldly go where no company has gone before". Star Trek: Part 2.
Tweet this port | Share on LinkedIn
Keeping in line with the previous articles regarding the topic of quality management software, this article by Matthew Littlefield discusses what it means to close the loop on quality and how a global IT infrastructure can support this initiative. Following an explanation of closed-loop quality, Littlefield provides three examples of such processes: Customer Complaint Management and FMEA/CAPA, Statistical Process Control, Traceability, & Supplier Quality Management, and Corrective & Preventative Action & Risk Management. Data is also presented on the impact that closed-loop quality as on the performance of overall equipment effectiveness. Read more.
Tweet this post | Share on LinkedIn
A new report released from MIT discusses that collaboration between private and public sectors that share risks in innovation and research & development can promote growth. The report, Production in The Innovation Economy, indicates that manufacturing shouldn't be perceived as a shrinking sector, but rather should embrace technological advancements and new collaboration opportunities. The content in this report stems from 255 manufacturing companies including four types of organizations: start-up, small-scale manufacturers, U.S. based multinationals, and foreign firms. Overcoming economic difficulties within increased collaboration.
Tweet this post | Share on LinkedIn
For those of you that weren't aware, this past Tuesday was National Golf Day. Therefore, it's only fitting for the National Association of Manufacturers to publish an article on how certain policies in Washington are impacting golf equipment manufacturers. Karsten Solheim originally developed the PING golf putter, specializing in customized ordered clubs delivered within 48 hours, before creating a well-known golfing company. Today, Karsten Manufacturing is the only major golf manufacturer that maintains its own foundry in the United States. The family-owned company is committed to providing U.S. employment opportunities; the Miscellaneous Tariff Bill (MTB) lessened the tax on imports of components not available in the country, thus creating a level playing field globally. As of 2013, the MTB expired and left Karsten Manufacturing with new challenges. Increased tariff affecting your golf bag.
Tweet this post | Share on LinkedIn
You Might Also Be Interested In:
Reducing Risk and Improving OEE with Audit Management Software
Supplier Quality Management: A Risk Based Approach
CAPA Drives Dramatic Improvement in Product Compliance [DATA]
Tags: Weekly Roundup, Quality Management, Quality Management System