In April 2013, Nissan, Honda, and Toyota were involved in a recall of 3.4 million vehicles. The recall impacted vehicles in North America, Japan, and Europe, and was issued regarding airbags supplied to each company by the world's second largest airbag and seatbelt maker, Takata Corp. The airbags are said to be at risk of catching fire. This recall highlights a trend of cost-focused automotive organizations taking on more operational risk without the proper global traceability and containment capabilities.
A surprising number of defective parts and components make it into the supply chain every year. While most fly under the radar, a select few adverse events go down in history for being so large-scale that they actually catalyze changes in regulations or strategies. Last month's recall may have had that impact on the automotive industry, as organizations are now reassessing current people, process, and technology capabilities.
At LNS Research, we've been looking into this issue. Specifically, we're interested in finding the answer to one question: How can a company sustain a market-leading customer experience while reducing the risk of a major product quality or safety issue? This post aims to investigate the issue further.
Enabling Communication and Collaboration Across the Value Chain
To build a market-leading customer experience, discrete manufacturing companies – not just those in the automotive industry – are enhancing capabilities across the value chain. Specifically, many are developing global traceability and containment solutions to enable the capability to streamline, centralize, and standardize granular part and process data.
Essentially, without having to move to an entirely new strategy and set of technologies, this solution addresses traditional gaps and facilitates synchronization between the global plant network, enterprise applications, the supply chain, and value network. Avoiding a rip and replace scenario, the solution can be built on an enterprise-wide BPM platform to create end-to-end visibility.
A BPM approach encompasses a combination of existing enterprise applications, legacy applications, best-of-breed applications, and workflow capabilities. It allows companies to optimize the best parts of existing strategies and technologies that have brought success in the past.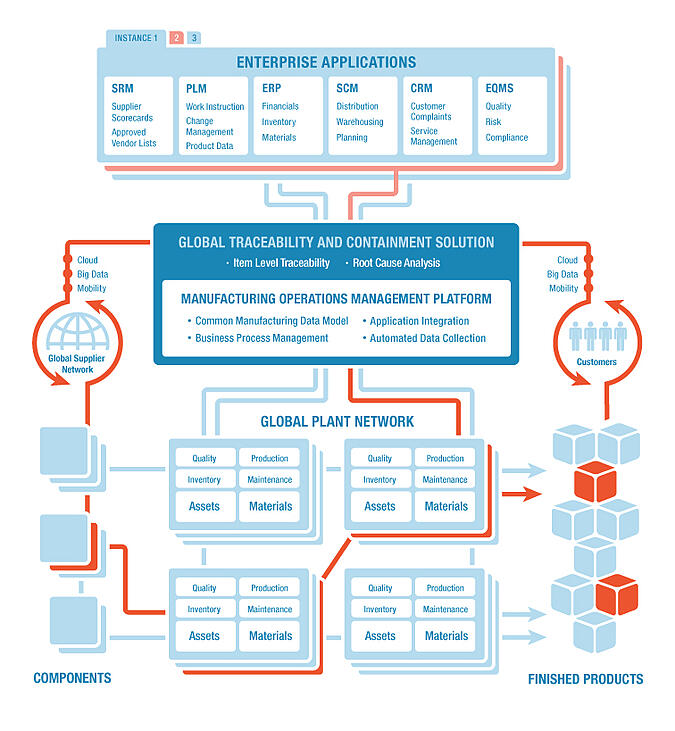 As depicted in the infographic above, the global traceability and containment solution connects enterprise applications across the value chain, delivering the capability to achieve item-level traceability and conduct root cause analyses on parts and components.
The solution enables a collaborative and communicative environment, delivering the capability for organizations to take a more holistic approach to preventing adverse events from happening in the first place. Though, should a defective part or component enter the value chain, organizations can respond more effectively and rapidly with a targeted recall. On both ends, organizations are limiting operational risk exposure.
The move toward a global traceability and containment solutions comes at an integral time for the automotive industry. Many organizations are decentralizing quality management efforts, giving more power and responsibility to regional leaders rather than requiring that every decision goes through the corporate headquarters. With this new management strategy, the ability to analyze enterprise-level data down to item-level data will be a key differentiator.
A Takeaway for Automakers and Other Discrete Manufacturers
With the challenges of the modern marketplace, it's no surprise that discrete manufacturers have experienced difficulties. To have a successful operation, there are an enormous amount of variables to account for. Adverse events and defective parts and components will continue to cause disruptions in the industry, which makes it vital that organizations take the appropriate steps to improve end-to-end visibility and mitigate risks.
Companies, especially those that have a history of market leadership like Toyota, Nissan, and Honda should ride the waves of past success and build upon them. An investment in a global traceability and containment solution that leverages key technologies such as BPM, mobility, and cloud would deliver the needed level of visibility as well as enterprise collaboration and communication capabilities to not only mitigate risks, but also to continuously improve business performance over time.
LNS Research recently wrote a research paper on this topic, which intends to help executives better understand the challenges of discrete manufacturing and how they can build a global traceability and containment strategy to overcome them. The paper can be found here.
3 Reasons Why Your Product Traceability Strategy Isn't Working
Operational Excellence: Insights on GM's SUV Recall
Tags: Enterprise Quality Management System (EQMS), Risk Management