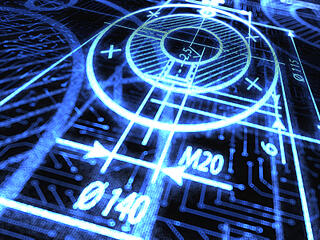 A couple of weeks ago, LNS Research attended the 2013 Siemens PLM Software Analyst and Media Conference in Boston, MA. Along with the Product Lifecycle Management (PLM) industry's analyst community, we received briefings and updates from several Siemens executives who are focused on serving different manufacturing industries. We also witnessed several customer testimonials from executives representing companies such as United Launch Alliance, Chrysler, Luerssen Yachts, and Bosch/Siemens Appliances.
Industry Focus and Commitment
With respect to its digital enterprise platform, Siemens has made advancements with the acquisition of LMS International NV since last year's event. The company's technology message centered on its focus of continuing to improve the Siemens "high definition" user experience, intelligently integrated information, and future-proof architecture in its PLM products.
Siemens also stressed its focus on investing in and providing solutions that target specific vertical industries throughout the event as both a model for growth, as well as a commitment to serving industry-specific needs. Focus industries for Siemens PLM that were covered in the conference included Shipbuilding & Marine, Aerospace & Defense, Automotive, Medical Devices & Pharmaceuticals, Electronics / Semiconductor, Energy & Utilities, Industrial Machinery & Heavy Equipment, and Consumer & Retail / Footwear.
In this post, we'll discuss the key takeaways from the conference as well as our perspective on Siemens' strategy and positioning.
Increased Functionality and Improved User Experience
We see the LMS acquisition as an indication of the company's commitment to advancing its capabilities to extend across the complete product lifecycle and automating closed-loop business processes. Product cost and analytics continue to be a key driver in many core manufacturing industries and LMS helps to address these pain points in an integrated way that creates a closed-loop and systems-driven product development capability.
Additionally, Siemens' Teamcenter PLM product now supports HTML 5, enabling full mobility support of smartphones and tablets. We see this as being particularly well-suited to addressing challenges that extend beyond core engineering areas, such as CAPAs and other quality management functions of Teamcenter, product stewardship and conflict minerals for sustainability purposes, and product cost management for reducing overall product costs.
Additionally, Active Workspace takes into account the role of the user, adapts to industry language, and presents relevant data to that role, which will hopefully enable non-power or traditional users from other business areas such as quality, manufacturing, maintenance, and sustainability, to more effectively leverage PLM.
The theme of industry focus was also reinforced by the app functionality developments. For example, we saw industry-specific examples whereby there was more granular integration with quality, risk, and compliance rather than just supporting traditional R&D and engineering challenges.
Industry Catalyst Series
Siemens' growth strategy of configuration by vertical industry was evident in its announcement at the event of its new Industry Catalyst Series of PLM offerings, which are a pre-packaged combination of industry best practice guides, deployment accelerators, and configurable solution components that can be added to existing offerings, and are aimed at tailoring PLM deployment to the needs of specific industries and users.
Tecnomatix
Siemens is also making additional investments toward sustainability and energy reduction through its release of Tecnomatix 11, which focuses on real-world simulations of energy that aim to identify sources of consumption in a production environment and alternative processes, methodologies, and behaviors that can reduce this consumption. Tecnomatix 11's process simulations also allow the integration of 3D design features with real-world production measurements, creating a single interface to track, analyze, manage, and publish quality knowledge across the entire enterprise.
Other highlights included continued development of the Bentley partnership for integrated manufacturing process and factory layout planning as well as enhanced MES-PLM integration with enhanced electronic work instructions, non-conformance CAPA, and embedded 2D/3D visualizations.
LNS's Reactions
This event highlighted Siemens' continued focus on the core issues and strategies from previous years, with specific advancements in many areas of functionality and user experience. It was interesting to see how the industry focus translated to customer testimonials in reducing product lead time (Luerssen) and enabling faster product modification and testing (Bosch). Finally, LNS was happy to see a simplified view of Teamcenter with four transformative areas called out as Quality, Cost, Sustainability, and Systems.
These are all areas that depend upon PLM but are business processes that extend enterprise-wide. We can see and appreciate Siemens' big vision, and the many tangible steps toward the execution of that vision. However, the challenge we see for Siemens over the coming years will be enabling customers to orchestrate these business processes across the enterprise with Teamcenter as the hub, and by successfully integrating with other Siemens software products as well as third-party software.
Siemens' commitment to keep its products open to integration with third-party software was stated at the conference, and we hope that it can continue to strike the right balance between an even more integrated software portfolio that is also open to third parties.