Build an Effective Cost of Quality Program Across a Global Organization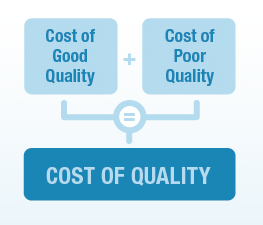 Are you interested in implementing or improving an existing Cost of Quality program? LNS Research will be conducting a benchmarking research project. The goal is to help executives understand the critical components needed for building an effective Cost of Quality Program across a global organization.
Our research team will execute on this program by conducting a comprehensive quantitative and qualitative analysis to understand how organizations are building a Cost of Quality Program. Subsequent to the analysis, an in-person executive roundtable will be held to share and discuss results with peers from participating companies. Participating organizations will also receive a number of reports, time with research analysts, and more. .
The project will answer several questions including:
How do I start the journey towards building a Cost of Quality program?

What are the main components of the Cost of Quality metric and how are those components measured effectively?

How do I build a proactive model that will help me quantify external failures, and capture process efficiency losses?

What are the best practices for getting buy-in from the executive team as well as building a cross-functional team to facilitate employee engagement?

How does my company's performance in Cost of Quality compare to peer groups and market leaders by industry?
LNS Research will work with 5-8 organizations around this benchmarking program. Complete the form to get additional details abpout the program. One of the LNS Research team members will contact you to provide additional details.