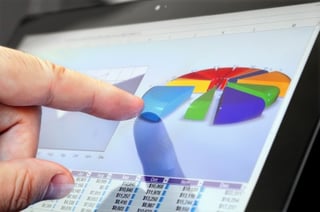 With customer expectations and business competition ever on the rise, almost every company is trying to take their performance to the next level. According to our Asset Performance Management (APM) survey, 51% of respondents identified 'better operational performance' as their number one strategic objective within APM, with 'increasing production capacity and capability' the next highest reason given at 11%.
As technology trends like Big Data Analytics, Cloud, and the Industrial Internet of Things (IIoT) advance to bring the promise of Smart Connected Assets into clearer focus, many companies are accelerating their APM technology implementations to achieve their strategic objectives. No small decision or investment, APM can be deployed for specific plants and applications, or enterprise-wide depending on business need and budget.
That's why we've released our Asset Performance Management Solution Selection Guide. Highlighting 20 of the biggest solution providers in the APM space, the guide offers a comparative look at these companies by several key criteria companies considering an implementation need to consider, such as company sizes served, functionalities delivered, industry strengths, and others. We're highlighting a different vendor each week on the LNS blog – this week is Emerson Process Management.
A Look at Emerson's APM Portfolio
Part of 125-year-old Emerson, Inc., the Process Management Business division is based out of Round Rock, TX and Bloomington, MN with worldwide offices.
The company is best known as a major process instrumentation and automation systems solution company. It offers a full range of solutions from instrumentation and actuators up into MOM and APM solutions designed for supporting Operational Excellence, with primacy in batch and process manufacturing. In mid-2014 it expanded its capabilities as an APM service provider by acquiring Maintenance Resources Group (MRG). In addition to its own software, Emerson is a prominent reseller and implementer of the Meridium APM solution set.
A few key products within the Emerson APM portfolio are:
AMS Suite: A family of asset health monitoring and management solutions including AMS Device Manager, AMS Machinery Manager, AMS APM, AMS Asset Graphics, AMS Performance Monitor, AMS Performance Monitor, and the UBS Fieldbus Interface

CSI Technologies: Includes vibration sensing and predictive technologies, continuous monitoring and predictive technologies, route based data collection, oil analysis technology, and online monitoring

Syncade: Solutions and services related to EAM implementation and deployment, including asset master data management

And several others…
A key strength that Emerson Process Management displays is the ability to execute on multi-vendor integration with North American, European, and Asia/Pacific teams in the best position to deliver comprehensive APM solutions.
Additionally, the company was a pioneer in digital networking and fieldbus solutions in the process automations sector, and has a long history with Smart Connected Assets. Therefore, it has developed an extensive portfolio of technology to support sensors, actuators, and instrumentation in batch and process manufacturing, including field communicators to install, service, and support instrumentation in the plant. The company is in good position to evolve to take advantage of the IIoT, Big Data, and Predictive Analytics.
A More Detailed Look at Emerson Process Management and 19 Other APM Providers
For more information on Emerson Process Management and 19 other key APM providers, including additional portfolio products, geographies covered, specific functionalities delivered, key strengths and industries served, delivery platforms and models, and time to solution value, be sure to access the LNS Research APM Solution Selection Guide below.
Tags: Big Data, Smart Connected Assets, Industrial Internet of Things (IIoT), Asset Performance Management (APM)