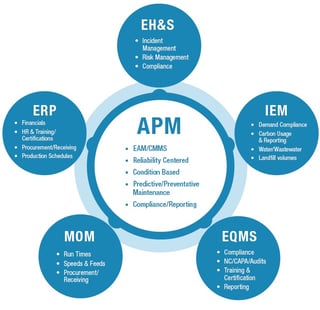 Whether it's cutting costs, increasing output, delivering higher quality products, or other top operational improvement initiatives, industrial companies today know how important having a continuous improvement mindset is.
In achieving Operational Excellence, there are a number of steps that organizations often take. Many are around top-level company strategy, organizational structure and employee empowerment/incentives. From the process/information perspective, it's also important (and easier said than done) to establish which Key Performance Indicators (KPIs) will really drive value for the organization (help us determine these measurements by participating in the LNS/MESA 2015-2016 Metrics that Matter survey here). Each of the five pillars of Operational Excellence can have a marked effect on these business and financial measurements, and technology solutions are becoming an increasingly important aspect of supporting each pillar.
As the place where the rubber really hits the road for an industrial organization with physical production assets, Asset Performance Management (APM) is a critical consideration in this regard for pursuing Operational Excellence. As the capabilities of the Industrial Internet of Things (IIoT), Big Data Analytics, Cloud, and Mobility become increasingly functional and implanted within APM solutions, technology is playing a greater role in achieving unforeseen intelligence and capabilities to reduce costs and risk while improving operational performance. As LNS Research Principal Analyst Dan Miklovic has put it, "healthy assets are the foundation of a healthy business."
Since selecting and implementing a software solution can be a daunting proposition, LNS Research has released our Asset Performance Management Solution Selection Guide as a free resource for manufacturing, reliability, and maintenance professionals to gain deep insight into potential solution providers that will fit their respective company size, industry, functionality, integration with other systems, and other criteria necessary for success.
Each week, we're highlighting a different solution provider from the guide, and today it's global giant GE.
GE's APM Divisions and Offerings
GE Corporate is currently headquartered in Fairfield, CT; but is soon moving to Boston, MA. GE is a global household name comprising several divisions such as Intelligent Platforms, Software, Aviation, Transportation, as well as industry specific groups like Oil & Gas, Power & Water, and Mining, all of which have APM related offerings.
In 2015 GE made a concerted effort to rationalize all of its APM offerings and the key two businesses specifically within manufacturer interest are the GE Digital and the GE Oil & Gas divisions. The latter manages the Measurement & Control sector, including the Bentley Nevada product line of vibration sensors. The company made an investment in APM technology by acquiring a 25% stake in Meridium, and has an extensive list of APM applications.
The APM Solution Selection Guide covers the Proficy brand of industrial software in particular, which includes HMI/SCADA, Manufacturing Execution System (MES), data management and analytics software (SmartSignal), real-time operational intelligence, and business process management and Equipment Insight from GE designed to support OEMs. The Intelligent Platforms division contains the GE Industrial Performance and Reliability Center—providing diagnostic services for predicting reliability and process issues with a combination of advanced analytics software supported by domain experts with deep process knowledge.
GE Digital "owns" the Predix Industrial Internet, cloud-based platform and has built it around four key areas: Secure Connected Assets, Industrial Data Management, Industrial Data Science, and Mobility and Cloud. The company has leveraged its own use of analytics to support reliability in its own product lines, such as aircraft engines and locomotives to develop methodologies to support RCM, CBM, and APM in all industries it serves.
Learn Much More on GE's APM Applications and Capabilities in the APM Solution Selection Guide
The full version of LNS Research's APM Solution Selection Guide has much more additional information on GE and its APM product capabilities as well as 19 other prominent APM vendors in the space, including the key strengths and industries served, delivery platforms and models, time to solution value, and more. The full version of the guide can be downloaded by clicking below.
Tags: Big Data, Industrial Internet of Things (IIoT), Asset Performance Management (APM)