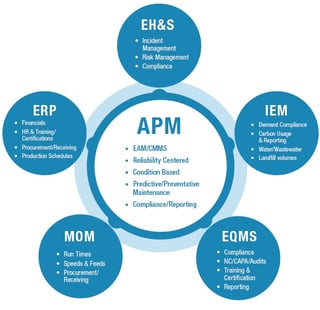 Continuing with our Asset Performance Management (APM) Solution Selection Guide, we'd like to take a closer look at Infor, a large enterprise software provider. Infor, headquartered in New York, is best known in the market for its Infor Enterprise Architecture Management (EAM) and Infor EAM Energy Performance Management products.
A Little About Infor
Before we get into why Infor took a place in the APM Solution Selection Guide, let's get a bit into its background. As previously mentioned, Infor holds headquarters in New York, NY and it has global offices in over 40 countries. Infor has a horizontal market approach, while it has a strongly defined vertical industry approach. The privately held company has the majority of the top 10 companies in various manufacturing sectors, such as coverage in food & beverage, pharmaceuticals, A&D, and many more. Its expansive coverage and customer relationships are due in part to the various acquisitions the company has carried out over the years.
EAM, APM, & Infor
EAM, a term coined by LNS Research Principal Analyst Dan Miklovic in 1999, was originally meant to be an alternative to ERP for asset intensive industries such as utilities, mining or refining; Infor touches all of these sectors. EAM takes place where the MRP II part of ERP was not relevant. It was the integration of the functionality of a Computerized Maintenance Management System (CMMS) with procurement, purchasing, HR, and financials. The definition of EAM and ERP has changed over time where both include other representations and functionalities of a more comprehensive CMM solution. It holds scalability across the enterprise by supporting a large amount of users. EAM and APM are both used as a physical-asset management solution for manufacturing products.
Building your EAM is important to any enterprise when designing your APM architecture. During the early stage of responses on our APM survey, 39% of respondents said that automation, EAM, and specialty APM vendors were just as important to them as their APM initiatives. While another 14% of respondents considered their EAM provider the most important. EAM and APM therefore oftentimes fall on the same spectrum.
Infor EAM Enterprise and Infor EAM Energy Performance Management target larger organizations, and the company also targets Infor MP2 for smaller organizations. Infor has invested many years (25 to be specific) and energy into its EAM products, developing its biggest strengths and core functions as:
Asset Hierarchy Management

Budget Management

Inspection Management

Purchasing Management

Work Management

Materials Management
The Future for Infor
In a recent post by Dan Miklovic, The Great Shift Change: IIoT & Smart Connected Assets, he specifies how the Industrial Internet of Things, Big Data Analytics, Cloud, and Smart Connected Assets are all on the rise, as the combination of these things will allow remote operations to thrive. This scenario becomes the ideal opportunity for solution providers who can provide cloud-computing capabilities. As Infor possesses a strategic direction to the Cloud, one of its emerging strengths is in Big Data Analytics and Predictive Analytics. While this is still in early stages, it currently holds a generalized business/CRM Big Data capability.
With its growing position in Smart Connected Assets, LNS Research would deem Infor EAM solutions in the APM sector as more than adequate for most asset intensive players. To read more details on Infor, such as technology development platforms, emerging strengths, dominate platform, and more access, the APM Solution Selection Guide. In addition, the Solution Selection Guide covers 19 other key APM providers by these and other criteria.
Tags: Big Data, Smart Connected Assets, Industrial Internet of Things (IIoT), Enterprise Asset Management (EAM), Asset Performance Management (APM)