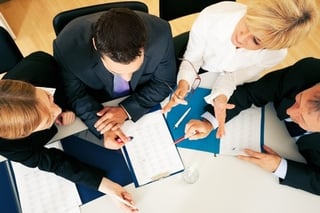 During the week of December 7th I attended and spoke at the 30th International Maintenance Conference (IMC) in Bonita Springs FL, which is put on by Uptime Magazine and ReliabilityWeb.com. The event stands out as one of the few vendor agnostic events, other than the SMRP conference, that focuses on reliability and its relationship to maintenance. Uptime Elements is a Framework that serves as the foundation of the magazine and websites dialog on how companies should approach asset performance management (APM). LNS Research views the Uptime Elements Framework as a very viable way companies can approach APM, and in the Dec/Jan16 issue of the Uptime Magazine I authored an article on "How Smart Connected Assets Will Impact Your Uptime Elements". One of the other things that happens at the annual IMC event is the awarding of the Uptime Awards. These are given to companies in a variety of categories related to their culture, leadership, skills, and execution of the art and science of reliability engineering. Another part of the event besides the exhibition, end user sessions, certification prep sessions, plenaries, and tutorials is TED-like talks about reliability topics called RAP talks (for Reliability & Asset Performance). True to the TED format the talks are 18 minutes in length and relate to a thought leadership idea.
Importance of Recognizing Success
Reliability programs are successful when one of the key indicators is that "nothing happens." Done well, a reliability program all but eliminates unplanned downtime and critical equipment failures. In reactive maintenance cultures, the hero or firefighter who rushes in to "save the day" is usually rewarded for their extraordinary efforts. Whoever rewards a team of behind-the-scenes engineers and technicians for just doing their job prevents the need to have the fire fought and necessitating the heroic behavior.
As a Lean Sensei (teacher), one of things you learn about Lean is the importance of recognizing team success. The Uptime Awards that are given at IMC do just that. A panel of judges reviews applications and select those companies that exemplify key attributes of good reliability programs. Class winners this year included Portland General Electric, Central Arizona (Water) Project, University of Central Florida, Nova Scotia Power, Merck & Co. Rahway, Iluka Resources, Lawrence Livermore Labs, Malaysia Airports and the overall award winner Bristol-Myers Squibb. Each of these companies received recognition, in front of their industry peers, for jobs-well-done, that essentially, resulted in nothing happening in their operating units because of their success. Companies desiring to create a culture of reliability need to keep this in mind and as the reliability efforts eliminate the "fires" start rewarding the "fire preventers" instead of the "firefighters".
Industrial Internet of Things is Impacting Reliability
Many of the sessions, including a plenary panel session I participated in, were focused on the the industrial internet of things (IIoT) and the impact it is and will have on reliability and asset management. A RAP Talk by Rag Rao of Siemens was noteworthy in that it presented what was the best APM/IIoT vision that I have heard from Siemens to-date. One of the points I made during the panel discussion was, that as a 45-year practitioner in this field, I was disappointed in how far we've come.
I noted that in 1988 I presented a paper at an ISA conference on how to use data from a data historian to detect wear and impending failure of a fan pump in a pulping operation. Too many people today are viewing the IIoT as just a means to do CBM on more assets since the IIoT will lower the cost of collecting that data and doing the basic condition calculation. My point was that if all you intend to do with IIoT enabled assets is the same thing we were doing 27 years ago we haven't really come far at all. We are just doing more of the same thing we did almost three decades ago. My position, which resonated well with the attendees, was that we need to do more. That same argument was then put forth by Pete Karns of IBM in his RAP Talk.
Plant Reliability Needs to Start at Conception
Another key concept that emerged at the event is that while you can maintain reliability in after the fact, it is far easier and more cost effective to design reliability in from the beginning. When a company conceives of building a new facility, that is the time to start thinking about and designing for reliability. Bentley Systems, one of IMC's key sponsors demonstrated an impressive array of solutions that allow companies to do just that. Particularly interesting was their 3D modeling capability using aerial data from drones and other airborne platforms, ground-based photo imagery, engineering drawings; and other visual data to generate complex, highly refined, digital models of the real world.
APM is a Diverse Set of Solutions
IMC brings together a very diverse set of APM solution providers. Presenting and/or exhibiting were training companies, consultants, vibration analysis, EAM, RCM/CBM, thermography, lube and lube analysis, mobility, and other solutions, all related to helping companies achieve better reliability and APM. Just as we have , IMC gives end users a chance to explore the offerings of that diverse set of solution providers up close. Of course when there is such a diverse set of suppliers to achieve the results you are looking for is critical.
If you are looking to understand what the future of APM will be in an environment of Smart Connected Assets and don't want to wait until next year's IMC in December 2016, access our eBook on Smart Connected Operations.
Tags: Smart Connected Assets, Industrial Internet of Things (IIoT), Asset Performance Management (APM)