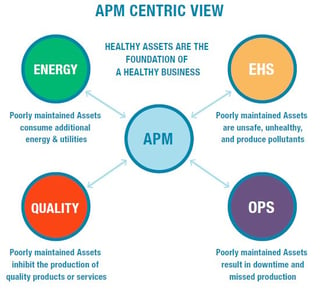 At LNS Research, we understand the value of Asset Performance Management (APM) and the role it plays in pursuing Operational Excellence. To assist you in transforming your Asset Performance Management system, we've provided our Asset Performance Solution Selection Guide (APM SSG) for easy viewing of APM solution providers and complimentary evaluations. Continuing our review of each, based on an analysis of the provider's solution, Honeywell Process Solutions falls next in place.
Honeywell and Its APM Offerings
Honeywell Process Solutions of Honeywell International, is based in Houston, Texas, and holds offices globally. While Honeywell is an aerospace, transportation systems, materials, and automation supplier; Honeywell Process Solutions is the process automation, software, and solutions division. The Fortune 100 company also holds a 125 history in its well-known integrated distribution control systems, safety systems, and instrumentation, and lifecycle services that aids industry solutions.
A part of Honeywell Process Solutions is its APM space solutions, Uniformance Asset Sentinel, Smart CET corrosion monitoring and Mobile Equipment Monitor solutions, which LNS Research evaluated in the Asset Performance Management Solution Selection Guide. The APM SSG covers these solutions detailing the specific applications of each. For example, this includes Uniformance Asset Sentinel solution that combines real-time monitoring, historical data analysis, and more. The Smart CET corrosion monitoring solutions offers real-time online corrosion monitoring technology, while the Mobile Equipment Monitor solution provides the mining industry with a combination of hardware and software to monitor the performance of heavy equipment and predict reliability problems. LNS Research also provides a chart within the APM SSG of total coverage area, emerging strengths, and the predominant strength and delivery models all needed to achieve Operational Excellence (OpEx).
APM Challenges You May Face
LNS Research Principal Analyst, Dan Miklovic has discussed APM challenges faced in past blogs when enabling OpEx, which includes a number of obstacles organizations list when it comes to achieving that objective.The number one top challenge is finding ROI, the next being a lack of visibility into the right metrics or knowing which metrics to measure. Cultural and organizational obstacles take four of the next six spots in the top obstacles list. The top cultural or organizational obstacles include, but are not limited to:
Poor collaboration across departments

A culture that doesn't support continuous improvement

Lack of executive support

No corporate understanding of APM
Although cultural challenges play a large role in achieving OpEx through APM, we recognize technology also hinders growth towards OpEx. Our APM survey found that as little as 20% of our APM survey respondents are moving past paper-based solutions, despite the impact major tech trends, such as Smart Connected Assets, Big Data Analytics, and the Industrial Internet of Things (IIoT), have on APM programs and ultimately achieving OpEx. With these tech trends comes challenges. To face these challeneges head-on, we've provided an overview and evaluation of providers that offer technology based APM solutions. The APM SSG gives an in-depth look at 20 APM solution providers as well as comparison charts so users can easily see:
Which suppliers serve their industry, geography, and business size

The licensing options each supplier offers

Which types of interfaces each supplier supports

What functionality each supplier can deliver
To read more on the APM solution offerings of Honeywell Process Solutions, as well as 20 other top APM vendors, click below to access the Asset Performance Solution Selection Guide. The guide is to help manufacturers navigate APM terrain by key criteria such as company sizes served, functionality delivered, geographies, and others.
Tags: Big Data, Industrial Internet of Things (IIoT), Asset Performance Management (APM)