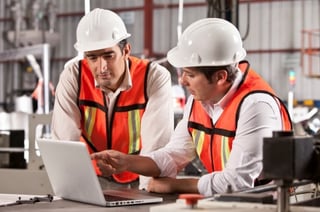 The M&A activity in the EHS software space continues unabated. With major announcements by Intelex and IHS still fresh in mind, global safety sciences leader UL announced on February 2nd that it has acquired cr360, a well-established Cambridge, UK based EHS and sustainability software provider. This move exemplifies the ongoing consolidation among EHS software vendors, and could signal the emergence of a new breed of EHS solution providers.
Click here to speak with Peter
In this post we'll discuss some highlights of the deal, how it aligns with the LNS Research vision, and key implications for customers and the market.
Highlights of the Deal
UL is well-known as the company that does testing to allow a "UL Approved" sticker to be placed on electric devices. The Northbrook, IL based company does a lot more. With 10,000 employees, UL describes itself in the following manner: "Dedicated to promoting safe living and working environments, UL helps safeguard people, products and places in important ways, facilitating trade and providing peace of mind." That's a far-reaching objective, and it's reflected in UL's broad product and service offerings.
UL has been steadily diversifying its portfolio in recent years by acquisition, building an Environmental, Health, and Safety (EHS) solutions offering that includes safety training and content (Pure Safety), and software (Occupational Health Manager and The WERCS product safety solutions), among others.
With the acquisition of cr360, UL is further expanding its EHS and sustainability management solution footprint. The new business will go to market as UL EHS Sustainability, with about 400 employees. The primary offering will include UL's training and occupational health offerings, along with the cr360 EHS and sustainability management software suite. Notably, UL's product safety/supply chain solutions will reside in a sister business unit rather than being wrapped into the UL EHS Sustainability, at least for now.
The two companies have joined forces to unlock the growth potential from several key synergies:
Product: cr360's well-regarded enterprise EHS and sustainability software suite complements UL's occupation health and safety software and content offerings
Geography: UL's global presence, with strengths in North America, is complementary to cr360's strong European resources and customer base.
Go-to-Market: Both companies have a similar large enterprise customer base in the same range of industries, presenting an opportunity to cross-sell among a combined 2,000 customers.
This combination is well-aligned with the LNS Research vision for digital transformation and operational excellence, and the demand we see in the market. Manufacturers and other asset-intensive industrial companies are seeking to further operational excellence goals by better integrating EHS and sustainability processes into core business operations. This is best supported by a broad set of EHS software and services capabilities from the minimum number of solution providers to maximize efficiencies and performance. The new UL EHS Sustainability business helps support this approach.
Implications for Customers and the Market
UL EHS Sustainability will have a comprehensive EHS and sustainability software offering, with UL's occupational health and safety software and content coupled with the already strong cr360 EHS and sustainability management offering. If UL's product safety and supply chain solutions were factored in, it would be one of the broadest EHS and sustainability software portfolios on the market.
Although current customers of both companies will have access to a broader solution portfolio, the actual business and economic benefit to the end-user will depend in large part on how well and how fast the offerings are integrated from a technical and deployment standpoint. This has often been the Achilles' heel of this sort of acquisition. In this case, UL's considerable resources and experience with enterprise software should help enable an efficient integration, and perhaps more importantly, help cr360 deliver the functional and technology innovations needed to stand out in the market.
The combination should be a formidable market contender, with the cr360 business better positioned to compete against the established EHS software leaders. This stems not only from UL's global brand and complementary product lines, but from go-to-market synergies and the availability of more resources from UL's relatively deep pockets to support product development, marketing, and sales. Indeed, UL EHS and Sustainability could be the forerunner of a new breed of global EHS and sustainability players with a wide range of business solutions including software.
Of course only time will tell if the marriage will be successful. Recent history offers plenty of examples of software company acquisitions that don't meet expectations, including in the EHS space. However, the synergies appear to be strong in this case, with a manageable amount of overlap that should be possible to rationalize.
UL's proven experience with integrating acquisitions and running software businesses, along with access to sufficient resources should help mitigate the risks. All things considered, the combination is likely to be a good strategy to maximize the growth potential of cr360, while possibly establishing UL as a forerunner of a new breed of diversified, global EHS business solution providers.
NEW Research Spotlight on strategies and recommendations for minimizing risk through a migration away from monolithic, single-plant MOM architectures through exploration of Cloud and IIoT technologies that are advancing in manufacturing today.