FREE eBOOK: The Global State of Manufacturing Operations Management Software -- Weaving the Digital Thread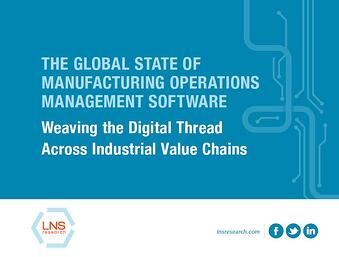 Across manufacturing industries today, pressures on cost, supplier networks complexity, regulatory requirements, and customer demands continue to grow, rendering the operational status
quo ineffective.
Leading manufacturers are handling this challenge by weaving the "Digital Thread" -- an end-to-end connectivity strategy
that spans the value chain with Manufacturing Operations Management (MOM) software applications and leverages new enabling technologies like Mobility, Cloud, and Big Data.
This eBook explores this topic more in depth. Specifically, it covers:
How manufacturers should view the value chain in 2014
How Mobile, Cloud, Big Data, and IoT technologies are advancing MOM capabilities
The quantified benefits of a platform MOM approach
Current and future trends around MOM software adoption
Actionable recommendations for manufacturers
Fill out the form to the right to download a free copy of this informative eBook. For more information on MOM software, Operational Excellence, or to speak with an LNS analyst regarding your current software selection process, feel free to contact us at info@lnsresearch.com.