Companies invest 25% of personnel in NPI, but only 56% of new products meet all NPI success criteria.
Brand value, financial performance, disruption, and innovation all have their roots in successful new product introduction (NPI). However, while firms invest heavily in NPI today, their current success rate is relatively low, and market trends such as increased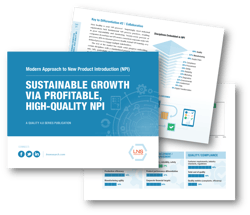 visibility to product performance, global pressures, and increasingly complex products make NPI success more difficult to achieve. There's only one way to survive in today's fierce climate: remove the obstacles that prevent collaborative NPI. To overcome obstacles, companies must make NPI strategic, collaborative, and digitalized.
Read this research to learn how to use NPI for sustainable business growth. You will learn:
How NPI megatrends impact companies large and small
Why a consistent, enterprise-wide definition of NPI success is critical
Which obstacles commonly hinder NPI success
What the three keys to differentiation with NPI look like
How to embed innovation and digital insights into existing processes with the Digital Innovation Cycle
Recommendations to make NPI strategic, collaborative, and digitalized