Today, 51% of industrial organizations say "better operational performance" is the #1 strategic objective for improving asset management.
Despite best intentions, companies often fall short when it comes to making asset performance management (APM) improvements "stick." The maintenance team has reduced downtime, has effective labor utilization, and points to fewer catastrophic breakdowns.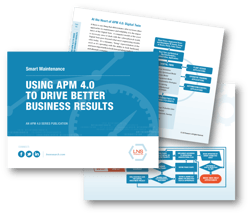 If that's the case, then why are asset management leaders still under fire? Why are their efforts still treated like costs to be managed rather than a strategic contribution to the business?
The fact is, asset-intensive organizations with an intensive drive toward Operational Excellence must develop a systemic attitude toward asset performance management (APM) instead of a purely maintenance-centric posture.
Read this research to understand how to use APM 4.0 to achieve balance between maintenance performance and overall economic performance. You will learn:
Which industries need APM 4.0 to "win" with asset management
What's possible with a systems view
Why APM 4.0 is the right approach, and when it's not
The role of advanced analytics in APM 4.0
Where to begin and how to assess results
Recommendations to minimize risk and achieve profitability