40% of companies cite "lack of visibility into metrics" as the top challenge to APM performance improvement. Meanwhile, only 14% of companies use manufacturing data in analytics.
If you're an industrial or manufacturing company, you can't make the best choices about APM 4.0 solutions until you understand all of the solutions required, whether each is business-centric or machine-centric, and each one's role in the use of data – reporting-centric or predictive-centric.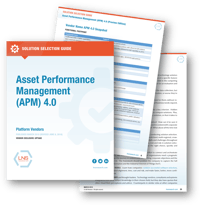 A Note About This Special Edition
The Solution Selection Guide by LNS Research explores vendors with an ability to serve as an APM 4.0 platform.
You are about to download a vendor exclusive edition which highlights Uptake. If you are an LNS Research program member, contact your client success manager to download the unabridged edition.