Pilot Purgatory: the status of a company "stuck" in pilot or testing phase of new technology, unable to achieve progress towards measurable results or progress towards scalable deployments.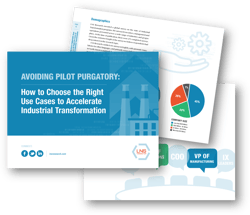 Industrial companies have been pursuing the latest generation of "transformational" initiatives since prior to 2015, (in fact, the term "Industry 4.0" was first used in 2011); this means we now have more than five years of trials and pilots, attempts to scale, successes and failures from which we can learn. Although empowered by emerging
technologies such as the Industrial Internet of Things (IIoT), Artificial Intelligence, and Big Data, the overall operational transformations within industrial companies have taken on a wider scope, focusing on achieving step change improvements in operations (as measured by KPIs) and, in some cases, fundamentally changing the products and services delivered to customers.

This research studies companies that have undertaken Industrial Transformation (IX) journeys, and asks the questions: Who is succeeding, and why? How are these leaders different than their peers? What we discovered is that there are fundamental differences, from corporate culture and org structure to how technology is used and managed, to how companies look at and use data. Not surprisingly, it all starts with goals: companies that have chosen the right goals – and the use cases that support those goals – have jumped ahead in achieving transformational results.