Many companies struggle in understanding how to best think about and incorporate the cost of quality into operations. In this post we'll examine some recent research highlighting how many companies fail to use reductions in the cost of quality as a driver for competitive advantage and revenue growth.
Quality and Operational Excellence
In building an operational excellence model, industrial and manufacturing companies typically create a set of objectives or goals to work toward. Often, these goals are operational or financial in nature. At LNS Research, with quality management becoming a focal point for many organizations, we believe that executives should also include quality in these models of operational excellence.
Quality management objectives may include ensuring compliance, improving design for quality, improving the performance of suppliers, preserving brand equity, or reducing the cost of quality. It's important to note that while LNS Research may categorize these objectives differently in relation to financial and operational objectives, they're all closely related and interconnected.
Quality Management objectives shouldn't be viewed in a vacuum, and the below analysis shows why.
Financial Objectives
First, let's take a quick look at the financial objective data from our 2012 quality management survey. Based on over 400 respondents, nearly 60% of executives have revenue growth as the top financial objective of their company. This is significantly larger than the second and third selections: grow operating margins (19%) and expand into global markets (15%).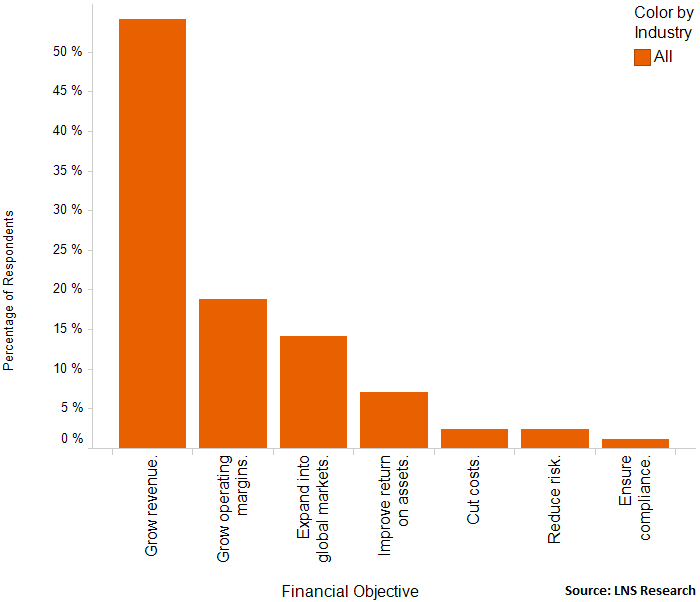 Quality Management Objectives
Responding to a similar question of which quality management objectives are most important to their companies, for more than 35% of executives, reducing the cost of quality is the top quality management objective. The next highest response regards improving customer experience (19%) and the third reducing non-conformances in manufacturing (13%).
Tying the Data Together
Interestingly, given the high percentage of companies in the top choices, there are relatively few companies that choose both growing revenue and reducing the cost of quality.
Instead, executives that choose the cost of quality as their top quality management objective are far more focused on other financial objectives, such as cutting costs, reducing risk, or ensuring compliance.
On the flip side, companies not choosing the cost of quality are 56% more likely to choose growing revenue as the top financial objective.
The Takeaway: Many companies don't believe that reducing the cost of quality grows revenue and this is a mistake.
Understanding Revenue and the Cost of Quality Model

For many companies, it seems that the benefits of measuring cost of quality might be overlooked or misunderstood. Where revenue growth is a main focus, especially in rapidly growing, younger organizations, there may be the misconception that the cost of quality is solely focused on reducing costs and managing compliance.
At LNS Research, we view the cost of quality analysis as a key component of quality management programs. Because the variables in its calculation touch people, processes, and technology across the value chain, we're seeing that companies focusing on improving them are excelling in operational efficiency, branding and reputation, and the continuous delivery of high quality products. Each of these areas either directly or indirectly affects business performance and, consequently, revenue growth over time.
Of all the quality management metrics that can sit on an industrial or manufacturing executive's dashboard, the cost of quality may be the most important. At a high level, it measures the costs incurred to ensure the delivery of high quality products. But more specifically, it can be broken down into a multitude of variables, each of which plays an important role in improving business performance.
Our research paper The Cost of Quality as a Holistic Business Measurement takes a deep dive into the Cost of Quality metric, helping executives to define and measure it in their operations.
You might also be interested in:
Executive Dashboard: Cost of Poor Quality Definition
Enterprise Quality Management Software - Part 2 Cost of Quality
Cost of Quality: The Formulation Management Conundrum
Categories: Enterprise Quality Management System (EQMS)