Manufacturing operations management (MOM) systems fill the gap between plant systems and business systems in a manufacturing enterprise. These are also sometimes called manufacturing execution systems (MES). LNS Research uses MOM to cover the ISA-95 Level 3 architecture and functionality, and our definition of MOM includes extensions or variations on the ISA-95 model as it is likely subject to changes as manufacturing becomes more closely integrated into the Industrial Internet of Things (IIoT)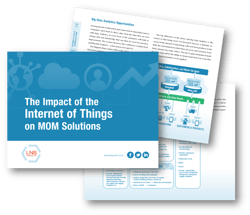 This eBook from LNS Research examines the state of the MOM industry, so industrial companies can understand the changes taking place in the industrial software landscape.
Download the eBook to learn:
A new perspective on the ISA-95 hierarchy
Challenges of standardization
Difficulties caused by monolithic systems
Structure of IIoT platforms
Role of smart connected business processes
Recommendations for embracing IIoT and MOM
Register now for your free eBook, The Impact of the Internet of Things on MOM Solutions.