Manufacturers across every sector of life sciences strive for Operational Excellence for the business and financial value it delivers. Many companies are eager to uncover and leverage every opportunity to align typical processes and disciplines to drive operational and financial performance.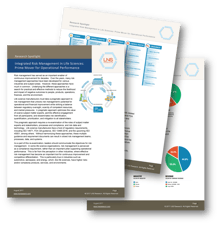 Risk management has served as an important enabler of continuous improvement for decades, and today's modern practices enable life science companies to achieve so much more than basic regulatory and market compliance. Integrated risk management unlocks new and tremendous potential for operational and financial improvement while striking a balance between regulatory oversight, scarcity of competent resources, and market pressures.
Read this research spotlight to learn about the pragmatic approach leading life science companies use to optimize the value of scarce subject matter experts, permit effective engagement from all participants, and disseminate risk identification, quantification, prioritization, and mitigation to all stakeholders.
Download the spotlight report to learn:
State of the market for risk management across the life science manufacturing industry
Which risk management best practices are being used to achieve Operational Excellence
A framework for integrated risk management
Risk considerations across the value chain and operations
Best practices recommendations and the impact of adoption