A Solid Footing to Achieve Business Goals
Your mission: cut costs, ramp production with zero tolerance for production line downtime — and all while implementing new software. Throw in the fact that you have roughly 80 homegrown software applications and a few highly-customized pieces of commercial software. No big deal, right?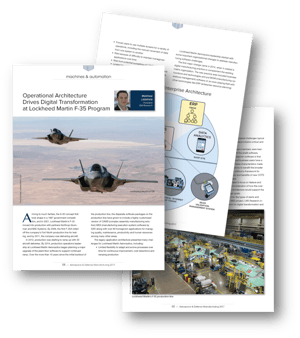 These were some of the challenges facing Lockheed Martin Aeronautics' high-profile F-35 program and the company's newly appointed digital manufacturing fellow, whose cross-functional team had to select a new manufacturing execution system (MES).
This article steps you through Lockheed Martin's journey and explores why an Operational Architecture was critical to the team's success.