Some companies are not ready for Smart Manufacturing, Industry 4.0 or Industrial Transformation projects. This is especially true for small and mid-sized companies and those in industries with tighter margins and constrained resources.
Plus, many firms underestimate the challenges and risks that come along with transforming a business. In truth, certain companies are better served by avoiding a full industrial transformation in the near term, and instead focusing on incremental improvements that are more suitable to small and mid-size manufacturers.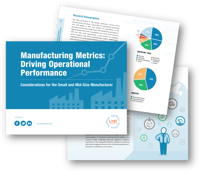 Yet, those that delay or avoid full-scale transformation must compete against larger, resource-rich organizations. In some cases they are suppliers to the big guys, which brings its own set of challenges. These are the businesses that are seeking guidance on how to best manage operations in a highly efficient manner, and what systems are required to do so.
Read this research to learn:
The warning signs and opportunity beacons for operations leaders
The impact of manufacturing software and performance
What to expect when starting the journey from metrics to analytics
The impact of digital on operational excellence
Recommendations for small and mid-size manufacturers
Register now for your free eBook, Manufacturing Metrics: Driving Operational Performance.