Free Download: One-Stop MES Toolkit (eBook, Infographic, Webinar)

Across manufacturing industries today, pressures on cost, supplier networks complexity, regulatory requirements, and customer demands continue to grow, making technology resources increasingly important for success.
That's why we put together this MES toolkit, including an eBook, infographic and one-hour webcast recording detailing the top strategies for overcoming today's most pressing manufacturing challenges.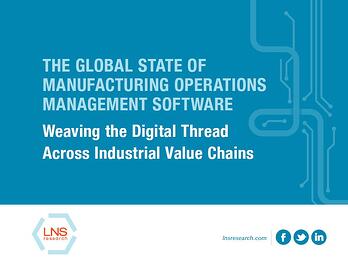 With this toolkit you'll be armed with a wealth of information to inform your MES decisions, from initial inquiry to building a short-list. Specifically, the toolkit covers:
How manufacturers should view the value chain in 2014
How Mobile, Cloud, Big Data, and IoT technologies are advancing MOM capabilities
The quantified benefits of a platform MOM approach
Current and future trends around MOM software adoption
Actionable recommendations for manufacturers
Fill out the form to the right to download your free MES toolkit. For more information on MOM software, Operational Excellence, or to speak with an LNS analyst regarding your current software selection process, feel free to contact us at info@lnsresearch.com.