Free Download: Enabling Operational Excellence with Manufacturing Metrics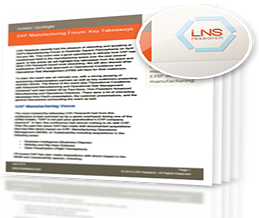 Identifying and measuring the right metrics is crucial in effectively evaluating your manufacturing performance and aligning your key assets - people, processes, and technology - to achieve a model of Operational Excellence. But with so many metrics available, it can be difficult to determine which drive the most business value.
customer experience and responsiveness, quality, efficiency,
inventory, compliance, maintenance, flexibility and innovation, costs and
profitability - See more at: http://www.lnsresearch.com/research-library/research-articles/enabling-operational-excellence-with-manufacturing-metrics#sthash.YiK3scjs.dpuf
In this Research Spotlight LNS provides insight into the 28 manufacturing metrics that are most widely used by market leading companies today in achieving success in the following areas:
Customer Experience and Responsiveness
Quality
Efficiency
Inventory
Maintenance
Flexibility and Innovation
Costs
Profitability
For free access to this report, fill out the form to the right.