Over 60% of companies are pursuing Industrial Transformation, but only 23% have adopted software for quality management.
Industry 4.0 and Smart Manufacturing initiatives are usually approved or instigated at the board level, with the direct support of the CEO. In response, cross-functional teams are identifying gaps, risks, and opportunities, and prioritizing projects to align with targeted improvements; many have a pilot program in place with a detailed business case.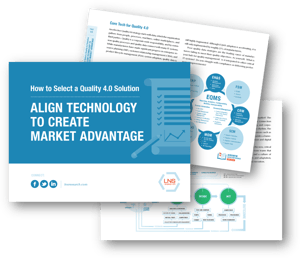 Despite efforts to digitalize across the enterprise, most manufacturers have only traditional quality management elements in place, and so face a fundamental challenge: How can the company build an effective strategy to leverage prior investments, make up for lost time, and rapidly deliver on the promise of Quality 4.0?
To answer this question the enterprise must reevaluate the value of quality and compliance to corporate success, and institute a cooperative cross-functional approach to technology. The technology selection team must prioritize those use cases with which new technologies can transform teams, leadership, culture, processes, and outcomes to support enterprise objectives and priorities. Ultimately, every organization will face pressing questions about Quality 4.0. Read this research to address those of immediate concern:
How can an organization build a successful Quality 4.0 initiative?
How to select Quality 4.0 technology to increase value and reduce time to value?
What are the top risks in a Quality 4.0 tech selection project?
What does a "successful" selection team look like?
Is it possible to simultaneously reduce the cost of good quality and poor quality?
Are there architectural considerations related to quality execution and management, and site and corporate quality?
Where can leaders demonstrate progress with short-term wins while building toward a robust future state?