Many of the top industrial business objectives and challenges have remained largely unchanged for some time: ensuring quality, responding to customer demands, handling disparate systems and data sources, and fostering increased operational collaboration.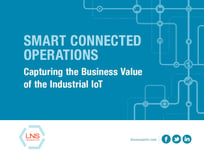 What has changed, however, is a fundamental shift in how leading manufacturers are beginning to approach these initiatives, namely through an increasingly tight integration between Information Technology and Operational Technology that is trending toward Smart Connected Operations -- the concept of interconnected people, processes, and assets within a facility and throughout an organization.
This eBook explores the emerging paradigm of Smart Connected Operations in depth, including the current state of the marketplace, barriers to Industrial Internet of Things capabilities, and actionable recommendations for manufacturers looking to be at the forefront of a trend that is already transforming business models. Specifically it covers:
Why 44% of manufacturers still don't understand the Industrial IoT
The four main buckets of IoT platform capabilities crucial to its successful development and widespread adoption
How to develop a business case for IoT technologies, and why the industrial sector has many advantages in this regard over the consumer market
Examples of current succesful industrial IoT pilot projects leveraging Smart Connected Operations
Fill out the form to the right to download a free copy of this informative eBook. For more information on Smart Connected Operations, Operational Excellence, or to speak with an LNS analyst regarding your current software selection process, feel free to contact us at info@lnsresearch.com.