28% of companies use NPI to defend existing customer base against global competition.
According to principal analyst Dan Jacob, "A differentiated risk strategy improves the performance of NPI, quality, and operations. And, of course, it delivers compliance."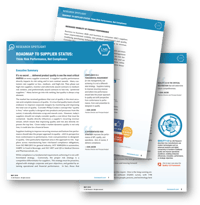 The markets that suppliers face today has changed substantially in the past several years, with much greater oversight from customers and an ever-increasing focus on quality and risk. These trends will continue into the foreseeable future. Manufacturers looking to become differentiated suppliers must re-examine their quality and risk strategies.
That's not to suggest that suppliers ignore regulatory requirements. On the contrary, suppliers looking to improve recurring revenue and bottom line performance should take the proper approach to quality – shift its perspective from conformance to performance, from cost-prevention to designed-in quality. One particularly important area is the approach to risk.
Read this research spotlight to understand why a differentiated risk strategy can help your company become a strategic supplier for more competitive advantage and higher profitability. You will learn:
Which market dynamics impact quality and risk
How to shift increased visibility of product performance to an advantage
What global leaders do to create differentiation through quality and risk
Why leaders adopt a closed-loop approach to quality and risk information
Where quality is proven to play a role in innovation and NPI
What the financial impact is of a risk-based approach to quality
Recommendations to achieve supplier status through risk performance