50% of manufacturers say SQM is "critical" for company success, yet 21% of businesses say supply chain visibility is a leading roadblock to achieving quality objectives.
The global nature of today's supply and demand chain means that companies must optimize the supplier base against a very broad set of requirements well beyond cost. Any manufacturing organization that applies a variety of performance indicators to supplier quality management (SQM) is taking just the first step toward a risk-based approach.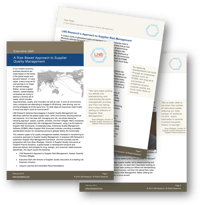 It's a complex balancing act, particularly when characteristics like supplier criticality, likelihood of failure, and many others are involved. Yes, an enterprise quality management system (EQMS) system helps, but the right framework is just as important.
Read this research spotlight to examine one highly successful approach to supplier quality management. You'll learn:
How companies in life sciences, automotive, consumer durable goods, and other manufacturing verticals achieve success with an "Assess-Quantify-Prioritize-Mitigate" framework
Why the Director of Supplier Quality Assurance at Catalent Pharma Solutions relies heavily on a risk-based approach to SQM
Recommendations to make risk-based SQM part of your company's performance strategy