FREE EBOOK
Latest Biennial Report: Analytics That Matter in 2020
Limited-time Complimentary eBook - Download Today! An LNS Research Report, in conjunction with MESA International, the leading association in manufacturing excellence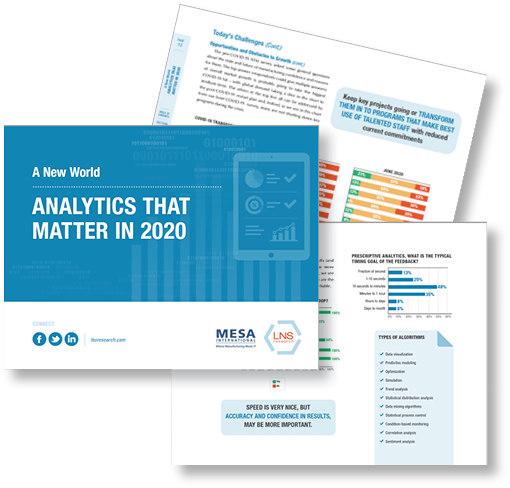 Are you a leader or a follower?
When it comes to analytics, industrial organizations have a long way to go. So, are you a leader or a follower?
The good news is this…there has been a 52% increase in industrial companies with a formal analytics program in the past two years. But here's the challenge: there has been only a 39% increase in prescriptive analytics capabilities. Add to this a global pandemic and the data gets trickier – what is an anomaly, what is real?
We can do better. LNS Research, in partnership with MESA International, will tell you how in our latest biennial eBook, "Analytics that Matter in 2020: A New World." In this informative and useful report, you'll discover:
Which critical analytics you're overlooking and how to refocus, even during COVID-19.
How to create a successful data model and why that's key to your Industrial Transformation (IX).
What analytics leaders care about and how you can be an IX leader, too.
How to transform your organization, not just spin your wheels with more tools.
This is a must-read report for heads of Industrial transformation, or OT and IT leaders who are driving their industrial data analytics strategy.
For a limited time only, this eBook is available to you complimentary. Don't miss out on this comprehensive and pragmatic report that only happens once every two years – download the full eBook today!