Limited-time Complimentary eBook - Download Today!
Latest Research Report
ENABLE OPERATIONAL AGILITY WITH A DIGITALLY CONNECTED WORKFORCE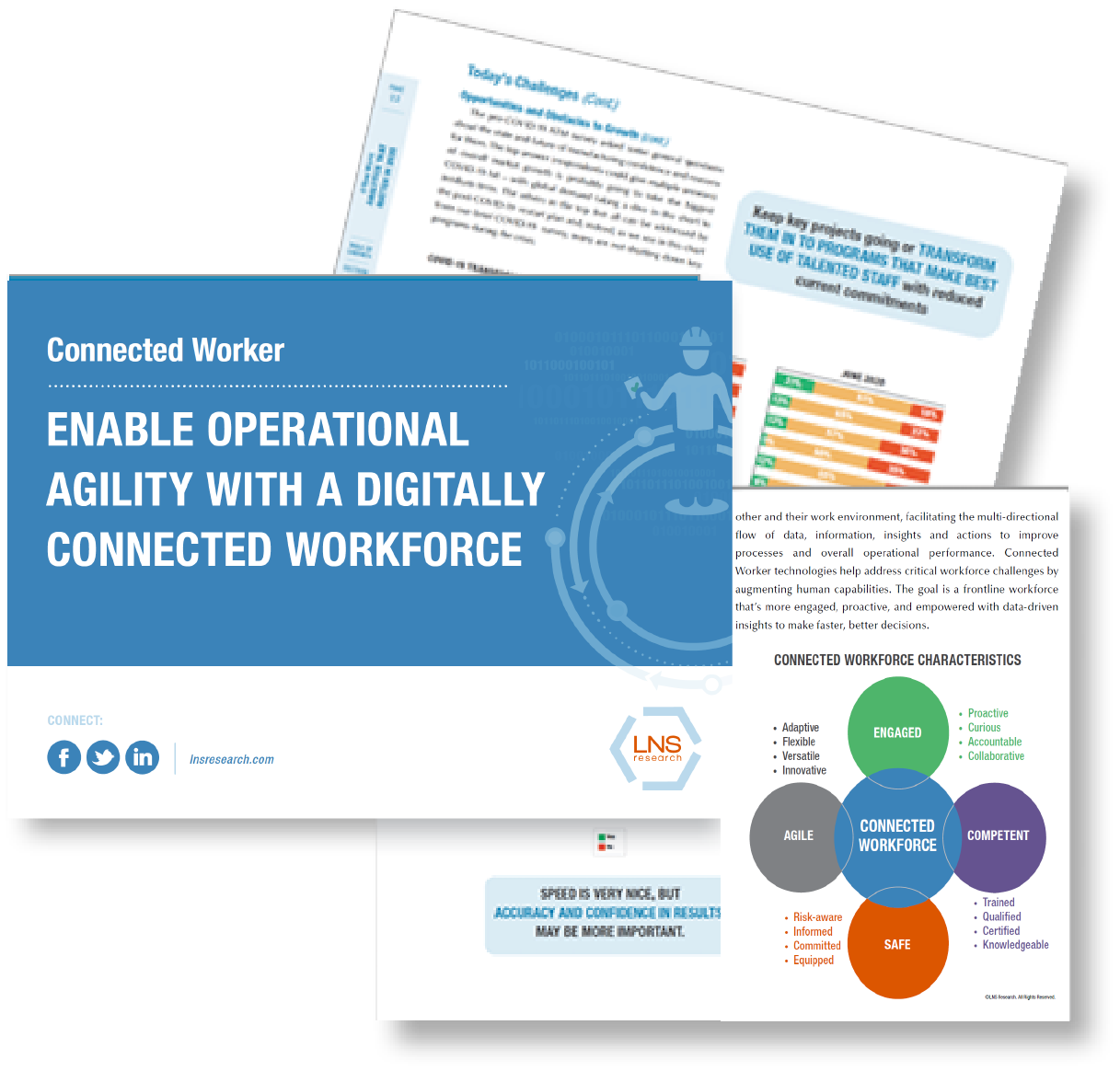 Productivity, Pandemic, & Profitability Accelerate a Connected Workforce
For industrial organizations, operating in the world before the COVID-19 crisis was no walk in the park. Complexity, change, and uncertainty were the order of the day, presenting a continually evolving risk environment.
In response, companies embraced Industrial Transformation (IX) as the strategic framework to drive step-change performance improvement and competitive advantage. With a startling global pandemic, these IX efforts are being prioritized and accelerated now more than ever. And, a Connected Workforce has become critical.
In LNS Research's new ebook, "Enabling Operational Agility with a Digitally Connected Workforce," we examine how industrial organizations are implementing Connected Worker initiatives as a core pillar of their IX programs, and how the COVID-19 crisis is hastening these investments.
In this comprehensive report, you'll discover:
What frontline workforce issues are among the top strategic priorities in industrial operations
How Connected Worker digital initiatives are being used to address vital business problems

COVID-19's accelerating effect on Connected Workforce issues

New frameworks for Connected Worker initiatives within Operational Strategy

How to harness the power of EHS and Connected Worker projects to drive safety, quality, and productivity

A solution architecture model for aligning current and future Industrial Transformation (IX) strategies

The business value of Industrial Transformation (IX) and investment in a Connected Workforce – including profitability and operational performance metrics
Most importantly, this research study will provide you with actionable recommendations so you can build an agile, adaptable workforce ready for today's difficult challenges, as well as new ones that lay ahead. Download the complete ebook – FREE for a limited time – today.