Traditionally, EHS management has always been about focusing on meeting compliance obligations and effective management of safety, health, and environmental risks. However, EHS 4.0 takes it to an even higher level, going beyond the compliance focus of traditional EHS management to focus directly on supporting sustainable, profitable growth of the enterprise through digital technologies, and interconnected systems. And, it is about learning to leverage tech to enable data-driven decisions and insights.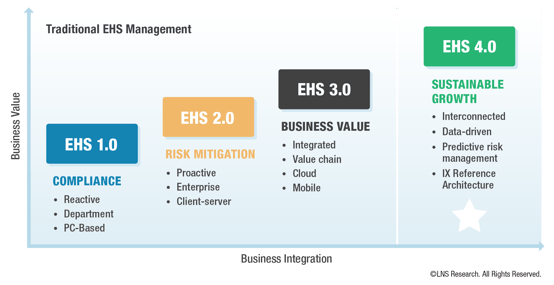 In the first of our series on EHS 4.0 entitled, "Transform EHS Management with Digital Innovation," we address how industry leaders are applying Industrial Transformation (IX) digital innovations to enable new ways of managing EHS, driving safety, risk, and sustainability performance improvement across operations and the enterprise, i.e., EHS 4.0. In this Research Spotlight, you will learn: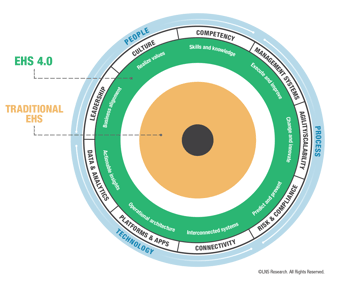 How the top business objectives for EHS management have shifted and what the focus now is.

The top five persistently challenging barriers both EHS Leaders, as well as Followers, face in achieving EHS business objectives.

The evolution of EHS management through conceptualized, four progressive stages.
How the EHS 4.0 framework is based on the LNS Research Maturity Model, which considers nine key elements across the three main transformation areas - People, Process, and Technology.

The biggest reported business drivers and why you should invest in EHS 4.0.
Most importantly, this Research Spotlight gives you actionable, data-based recommendations on how incorporating an EHS 4.0 approach into your Industrial Transformation (IX) initiatives can transform and accelerate business operations overall.
Complete and submit the form on the right to download the full report today.