QUALITY MANAGEMENT
QUALITY 4.0 IMPACT AND STRATEGY HANDBOOK
Getting Digitally Connected to Transform Quality Management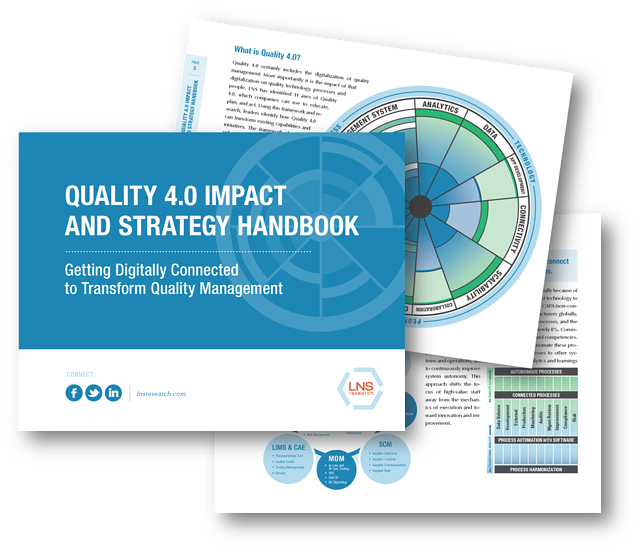 Quality 4.0 is a reference to Industry 4.0, the Fourth Industrial Revolution, with critical technology changes that span advances in data, analytics, connectivity, scalability, and collaboration. Industry 4.0 connects people, machines and data in new ways and democratizes technologies previously only accessible to specialized few.
For quality, these technologies are critical because they enable transformation of culture, leadership, collaboration, and compliance. This transformation should be top of mind for quality leaders, as quality improvement and monitoring are among the top use cases for Industry 4.0. Quality 4.0 is closely aligning quality management with Industry 4.0 to enable enterprise efficiencies, performance, innovation and business models.
This eBook explains Quality 4.0. Complete the form to download the eBook to learn what's involved and how to achieve it:
What defines Quality 4.0, why it's critical for Industry 4.0
Technologies required for Quality 4.0
How Quality 4.0 technology transforms people and processes
Use cases and results achieved
Guidance to transition from traditional quality to Quality 4.0
Register now for your free eBook, Quality 4.0 Impact and Strategy Handbook: Getting Digitally Connected to Transform Quality Management.