EHS performance isn't what it could be.
22% better operations performance (OEE) is what companies achieve with EHS software, yet…
31% of companies say "no ROI justification" is a barrier to getting EHS tech funding.
EHS leaders who used to struggle to get funding for their company's Environment, Health and Safety initiative got executive buy-in by doing just three things:
| | |
| --- | --- |
| #1 | Determined where they are in terms of EHS maturity against the rest of industry |
| #2 | Aligned with stakeholders across operations, business process, and senior management |
| #3 | Quantified and communicated the strategic value of EHS management in terms of productivity, risk, and growth |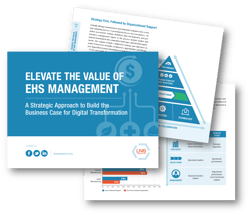 Complete the form to download the eBook, and get a clear picture of where you are today and what you must do now to elevate the value of EHS management, and get support from senior management.
Register now for your free ebook, Elevate the Value of EHS Management.