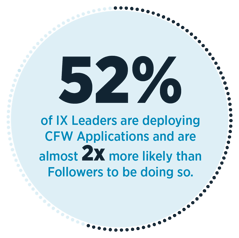 Connected Frontline Workforce (CFW) Applications continue to animate the manufacturing workforce worldwide. Our global 2023 State of Industrial Transformation (IX) technology survey shows that more than three-quarters of companies are executing, piloting, or planning on executing a CFW initiative in the next 12 months. CFW Applications have become a core transformation program component for the majority of IX Leaders. They are nearly three times more likely to be currently engaged in CFW initiatives when compared to Followers.
Building a Digitally Enabled Workforce
Solving critical labor shortages, skills gaps, and retention issues in frontline operations is mission-critical for manufacturers. LNS Research first published research on the CFW paradigm in 2018 and has been a leader in defining the maturing technology space. CFW initiatives have since emerged as an essential means to achieve operational goals through the support, engagement, and empowerment of frontline teams.
The LNS Research Connected Frontline Workforce Solution Selection Matrix (SSM) helps industrial organizations design CFW initiatives that digitally connect the frontline workforce within operations. CFW Applications are human-centric technology that enables the workforce in a way far greater than traditional mobile applications and is a strategic imperative for the Future of Industrial Work (FOIW).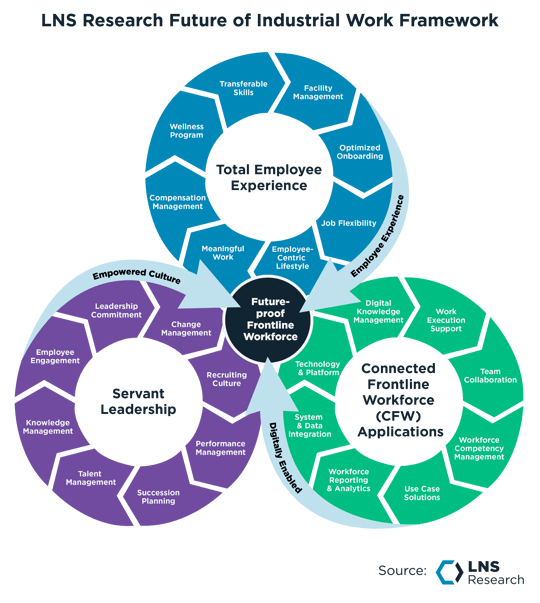 LNS Research defines CFW Applications as commercially available, productized software applications that:
Are designed for the frontline workforce and used across industrial operations to include production and maintenance employees.

Augments human capabilities by enabling the multi-directional flow of data, digital content, information, insights, and actions to, from, and among workers and teams.

Increase worker connectivity to and interaction with the overall operational management system and the work environment.

Provide frontline operations with information to support better, faster decisions, real-time feedback and actions, and improved communication and collaboration.

Deliver actionable insights for systematic improvement of how work is done and to optimize operational performance.
CFW-enabling technologies address next-gen workforce expectations and hold the promise of helping companies meet frontline workforce challenges. CFW Applications are a killer manufacturing app closing the gap and pivoting from the age-old practice of technology being done "to the worker" to providing technology "for the worker." As CFW adoption soars, there is a growing number of niche players and point solution providers outside the realm of defined CFW Applications across the technology landscape.
Finding CFW Applications in the Sea of Solutions
The CFW SSM Guidebook gives industrial organizations a better understanding of the CFW-enabling technology market landscape to assess and adopt viable vendor solutions. This relatively young and rapidly evolving technology space includes vendors that range from early-stage start-ups backed by venture capital to publicly traded global tech giants.
First, let's define the foundation of a CFW Application platform. The LNS Research Industrial Transformation (IX) Reference Architecture (Figure 1) identifies the five main technology components, plus the Ecosystem, needed to enable IX initiatives fully. The highlighted components in Figure 1 visualize those most essential to CFW Applications.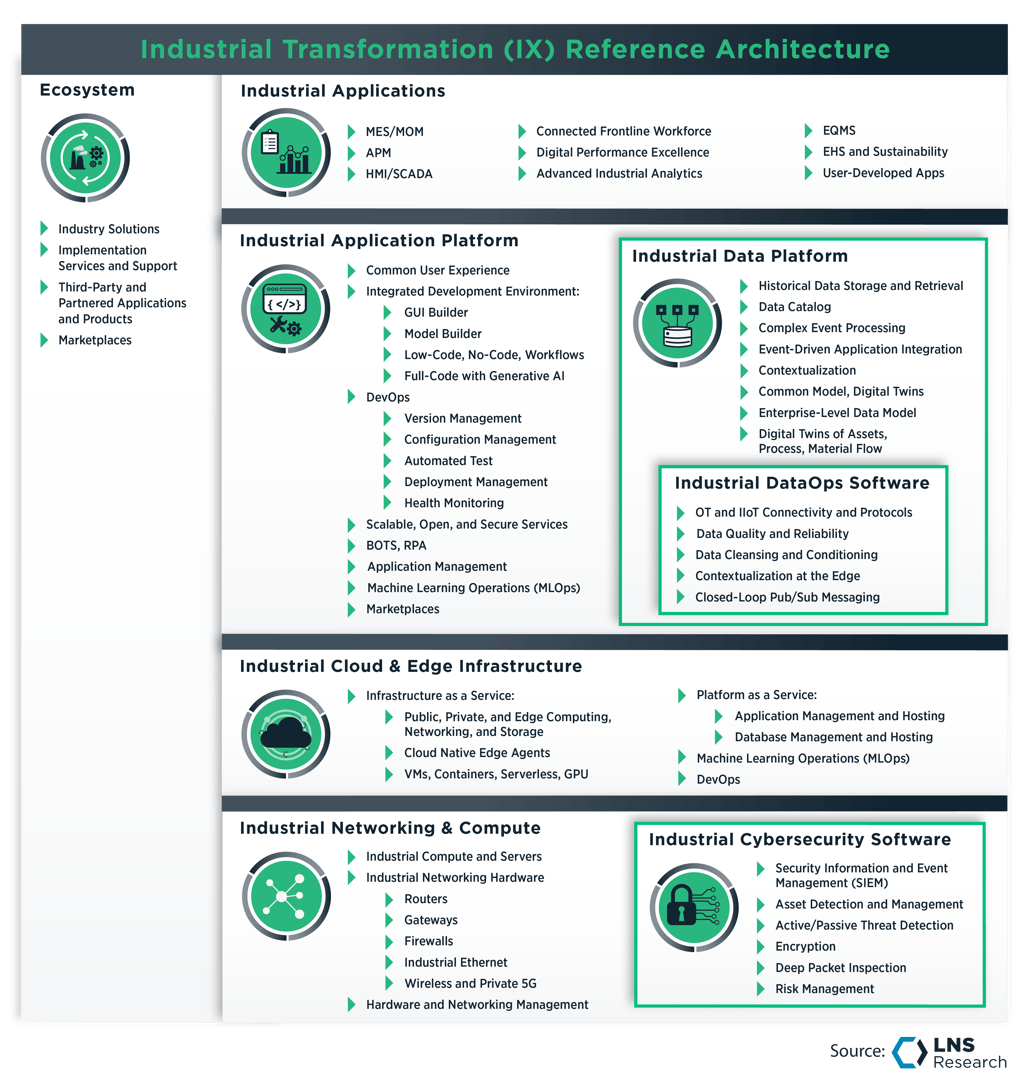 Figure 1: CFW Application Core Components and the IX Reference Architecture
Vendors across a sea of solutions were surveyed to gather initial product information. Briefings were then conducted to screen vendors for products that met the LNS Research definition, contained the core technology components, and provided essential data management and analytics capabilities. Each solution provider was thoroughly vetted with customer references testing their ability to develop, market, and service a total CFW solution.
LNS Researched deemed that a total of 14 vendors have the opportunity for continued growth and long-term viability as CFW solution providers.

Creating a Shortlist of Suppliers
The LNS Research CFW Applications Vendor Compendium helps members better create a shortlist of viable suppliers from a highly fragmented solutions market. While CFW Applications are a core enabler of a total CFW solution, the ideal solution will be based on the use case, operating environment, and technology landscape. Manufacturers should consider each vendor's strengths against the organization's current state and long-term vision.
Vendor offerings were evaluated using our body of research, knowledge of the market, and the "LNS Research 3P Evaluation Model." Quantitative scores were given to each vendor with offerings in the CFW technology category. The model scored each vendor across three dimensions:
Product: Evaluates the CFW Application's functional capabilities and platform technology features visually represented in Figure 2.

Presence: Scores the vendor's potential to further grow product capabilities, market penetration, and business growth within the CFW.

Potential: Assesses the vendor's capability to serve (e.g., CFW technology experience:), proven success (e.g., install base and implementations), and market penetration (e.g., geographies, industries, and customers served).
Figure 2: Vendor offerings were evaluated against CFW Applications' key capabilities
Each of these vendors in the SSM provides a respective CFW product offering with diverse strengths. The CFW Applications Solution Selection Matrix (SSM) visualizes the 3P Evaluation Model dimension scores to represent the relative position of each vendor in the overall CFW technology landscape. The composite score reflects the potential for wide-scale enterprise deployment and value and further differentiates each vendor as a Front Runner, Proven Provider, Innovator, or Up & Comer.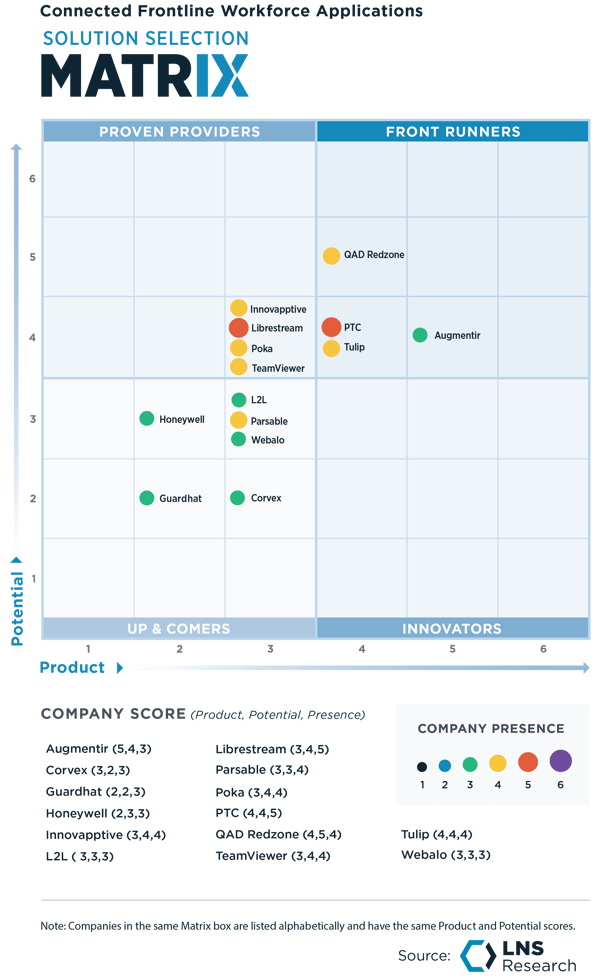 The SSM gives a current view of the rapidly evolving and dynamic market emerging of CFW solution offerings. The market is continuing to mature and provide the manufacturing workforce with tools that prioritize user experience while enabling better outcomes. CFW Applications are proven enablers to a future-ready frontline workforce.
Final Word to Manufacturers
We encourage you to download the new LNS Research CFW Applications SSM Guidebook to create initiatives that digitally enable the workforce while optimizing safety, quality, and productivity performance. Industrial organizations must include CFW initiatives in FOIW initiatives and the overall transformation program. Human-centric technology is mission-critical to hire, train, and retain next-gen workers.
Software solution selection is a complex undertaking with many pitfalls and challenges throughout the process. The Connected Frontline Workforce (CFW) Applications Solution Selection Matrix (SSM) provides manufacturers with critical advice and proven methodology to make the right choice quickly and confidently.
Eliminate worries around alignment, time, cost, and risk in solution selection with this LNS Research resource that:
Provides recommendations to industrial organizations developing initiatives supporting, engaging, and empowering frontline teams to achieve operational goals.

Identifies typical complementary technologies needed for a total CFW solution, pictured below.

Provides a comparison of each vendor's potential, process, and product capabilities.

Positions vendors across the eight key capabilities LNS Research has identified for CFW products and solution offerings.

Illustrates strengths of vendor products across key capabilities with a specific focus on reviewing solutions against the three components core to CFW Applications.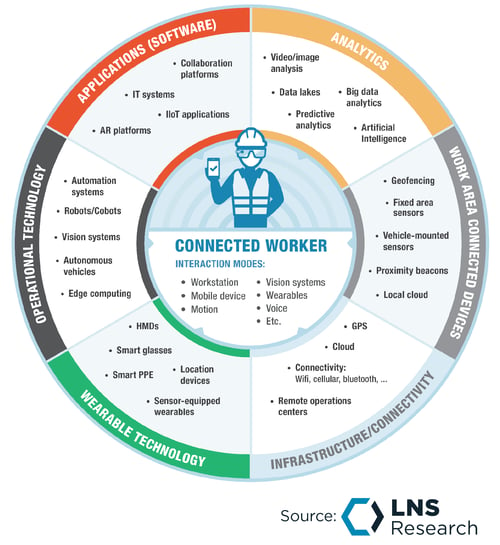 LNS Research members can obtain an in-depth analysis of each vendor and the respective CFW solution by downloading the CFW Applications SSM Vendor Compendium from the LNS Research Library.
---
All entries in this Industrial Transformation blog represent the opinions of the authors based on their industry experience and their view of the information collected using the methods described in our Research Integrity. All product and company names are trademarks™ or registered® trademarks of their respective holders. Use of them does not imply any affiliation with or endorsement by them.