Dan Jacob, Practice Director and Principal Analyst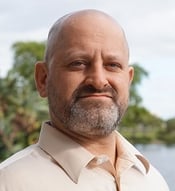 Dan Jacob joined the LNS Research team in November of 2015 and is a Research Analyst primarily focused on the Enterprise Quality Management Systems (EQMS) practice. Dan has over 20 years of experience in Quality, Reliability, Risk and Safety across several industries, primarily Automotive, Aerospace & Defense, High Tech and Electronics and Medical Devices.
Previous to joining LNS Research, Dan was the Senior Director responsible for PTC's Global Quality Solution, covering EQMS, Reliability, Risk and Safety subjects. Prior to this, Dan helped sell, service and deploy Quality and Reliability (RAMSTC) solutions for Relex Software Corporation. Before this, he operated his own firm providing engineering consulting to the Medical Devices and Metals industries. He started his career at Delphi Automotive in the Process Development and Technology group.
Dan graduated Magna Cum Laude from the University of Pittsburgh with a BS in Mechanical Engineering.