All manufacturers have a starting point from which they can transform. The reality of IX is that it needs to fit into other programs already underway or completed. If Industrial Transformation (IX) is to be successful, it needs to cover all aspects of an organization. At LNS Research, we break down these aspects into three areas: people, process, and technology.
It is important to recognize where you currently lie so that you can plan a future. To aid in this realization, LNS Research has defined five types of programs that cover the majority of manufacturers. Do you know which group you fall into?


In the first of our series on Digital Lean entitled, "Digital Continuous Improvement in an IX World," we address how it is key to get a balance between the introduction of digital processes and changes made to ongoing programs. Timing the change and making the right choices is maturity-dependent and must get the same level of support from management that the original program did. In this research spotlight, you will learn: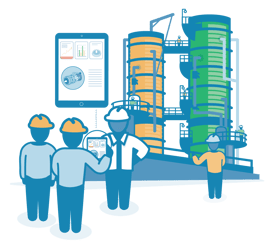 Industrial Transformation is a continuum; you will start where you are today and continuously improve from there. The improvement will tend not to be smooth but rather follow leaps and quiet periods as new technology beds in and people learn to use modified processes.

Digitizing lean processes is not an oxymoron; the best manufacturers adapt Lean and other processes to meet their needs rather than being hamstrung by convention.

Every journey in continuous improvement is different and you need to determine how you can optimize CI for your company.
Most importantly, this Research Spotlight gives you actionable insights and recommendations to help you identify where you currently are in your Industrial Transformation (IX) journey, and how properly implementing digital continuous improvement as a part of your IX program can potentially transform and accelerate business operations.
Complete and submit the form on the right to download the full report today.