18% of companies have already adopted IIoT technolgies, and...
35% more are going to invest in IIoT technology this year.
Early adopters of Industrial Internet of Things (IIoT) tech gain competitive advantage and achieve quantifiable benefits from their investment. Yet, the number one challenge organizations face while trying to make the decision is building the business case. Many of these companies struggle with fear, uncertainty and doubt around quantifying the potential value of applying new technologies to solve old problems.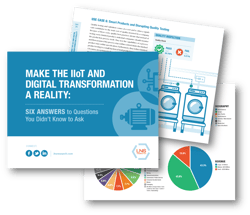 This eBook contains six use cases with concrete examples and specific benefits companies have derived by implementing IIoT technologies. Read it to help your company move away from buying on faith to investing based on proven results.
Complete the form to download the eBook, and explore these use cases:
Redefining Critical Assets – Pumps, Valves, and Motors
A New Approach to Clean-in-Place Systems
Creative Use of Social, Geospatial, and Asset Data
Managing Recipe Variation
Safety – Machines, Processes, and Workers
Smart Products and Disrupting Quality Testing
Register now for your free ebook, Make the IIoT and Digital Transformation a Reality: Six Answers to Questions You Didn't Know to Ask.