47% of life sciences companies are actively pursuing an Industrial Transformation (IX) initiative, with another 30% planning to begin one over the next 12 months.
Many life sciences companies are now embarking on Industrial Transformation of manufacturing and quality. They have a powerful advantage that others did not ― the ability to leverage the lessons, success factors, and technology perspectives of early adopters. All this is available to life sciences organizations eager for IX, with the likelihood of lower risk and higher success rates. While the window of opportunity won't close immediately, it is not indefinite.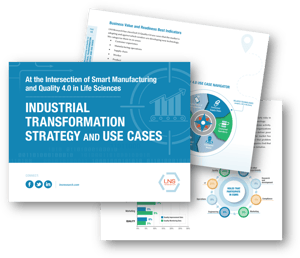 Consider this: Industrial Transformation (IX) initiatives have an average of ten sub-initiatives, with quality at or near the top of that list. Interestingly, while 38% of life sciences firms have started the Quality 4.0 journey – like the broader market – nearly seven in eight life sciences firms (84%) are still in the pilot phase, which is much higher than the market at large. Regulatory requirements force life sciences companies to move at a slower pace than those in other manufacturing sectors. There is hope however – life sciences companies can learn from early innovators' successes to reduce risks and increase speed of adoption. Read this research to find answers to the most pressing questions of life sciences organizations about Industrial Transformation:
How are Quality 4.0 and Industry 4.0 connected?
What does a successful IX program look like?
How can companies leverage technology to transform?
What are the essential elements in an executive business case?
Which use cases intersect Quality 4.0 and Industry 4.0, and how can companies prioritize them?
Register now for your free eBook, At the Intersection of Smart Manufacturing and Quality 4.0 in Life Sciences.