When 37% of quality leaders say that "culture of quality" is lacking, does it have any bearing on the 44% of products that don't meet NPI success criteria?
For manufacturers, corporate success often depends on new product introduction (NPI) success. Companies say that their top objectives for successful NPI include improved brand recognition, revenue growth, protecting revenue against global competitors, and entering new markets. With so much at stake, why is the mean NPI success rate only 56%?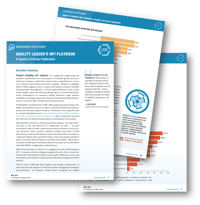 LNS found that quality is a meaningful contributor to NPI success and innovation. In fact, all functional leaders agree that quality is one of the top mandatory success criteria in NPI, on par with product performance, cost, and project timing. Market visibility to early quality issues has never been higher and will continue to increase. This trend signals opportunity for companies that are prepared, and serious risks for any that are slow to react.
Quality leaders must embrace these and other market trends to fuel conversations with top management and with their counterparts in other functional areas throughout the business. The dialogue should revolve around quality's role in helping the enterprise sustain revenue and bottom line growth.
Read this research to understand how to apply Quality 4.0 to NPI for sustainable business growth. You will learn:
Which market dynamics affect NPI right now
How to overcome traditional quality challenges
Why apply sufficient quality resources to NPI
When to invest in risk data management
Which 5 business processes are critical for modern NPI success
Ways to build on existing strengths
How to enable the digital innovation cycle
Specific steps to put the playbook into action