Quality 4.0 is the single most pervasive initiative within Digital/Industrial Transformation programs. In fact, 23% of Industrial Transformation (IX) initiatives are built around the deployment of digital technologies in and around quality. LNS Research calls that work Quality 4.0, and it is an important, growing trend across industrial organizations.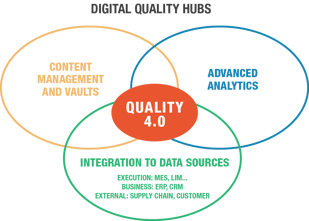 In the first of our series on Digital Quality Hubs, entitled, "Jump Starting Transformation in Life Sciences," LNS Research focuses on the intersection of IX and Quality 4.0 in the Life Sciences industry (pharmaceutical, biotechnology, and medical device manufacturers). Our research shows that Life Sciences companies are particularly engaged in IX initiatives.
47% of Life Sciences companies are actively pursuing an IX initiative,with another 30% planning to begin one over the next 12 months.
In this Research Spotlight, we detail IX, Quality 4.0, and the key role data, closed-loop data flows, and Digital Quality Hubs play in the intersection of these business initiatives. You'll learn:
How you can improve your quality monitoring and outcomes.

Why your data and its analysis are core to both IX and Quality 4.0.

What the leading cause of failure is in meeting quality objectives and how you can avoid it.

How to leverage digital technologies like Artificial Intelligence, Machine Learning, Big Data, Advanced Industrial Analytics, and more to drive better business results.

Why you need an Enterprise Quality Management System (EQMS).

How to move your quality function from a reactive "scorekeeper" to a "scorer."

Why you should be engaging in Digital Voice of the Customer to better understand your customers' perception of your products and quality.
Moreover, in this LNS Research report, you'll discover the power of creating a Digital Quality Hub and its compounding business effects for Life Sciences companies. We'll explain how manufacturers that utilize this holistic data model strategy see real improvement in manufacturing, quality, and New Product Introduction (NPI) metrics, and how you can too.
Most importantly, our Research Spotlight gives you actionable recommendations on how you can improve your quality and accelerate your Industrial Transformation (IX) within the Life Sciences industry. Complete and submit the form on the right to download the full report today.