First Pass Yield is an important manufacturing metric for measuring quality and production performance and there are many benefits to including first pass yield in the manufacturing executive's dashboard. First pass yield is a good measure of the effectiveness of a process and the elimination of waste from that process. Many other measures of productivity and efficiency fail to account for the cost of rework and in many facilities rework can be a significant portion of the time and value added to final production.
First pass yield can also be a good measure of the success of continuous improvement activities. Very often continuous improvement initiatives are focused on the reduction of waste and inefficiency, which can be hidden from analysis if first pass yield is not measured. For these reasons, and many others, first pass yield is often included as the first term of the Overall Equipment Effectiveness (OEE) formula.
For those companies that do not yet measure first pass yield, its formula and application is relatively straight forward:
First Pass Yield Formula
First pass yield = (units of products completed from process to specification with no rework) / (total units of products entering the process)
First Pass Yield Example
If 100 units enter a process, 99 are finished to specification, and 2 are reworked;
First Pass Yield = (99-2) / 100 = .97 = 97%
First Pass Yield Shortcomings
There are however several challenges with first pass yield. Most obviously it doesn't account for the down time, production schedule, or capacity of a given process. All of which are why most companies either measure it in conjunction with other manufacturing metrics or as part of a composite metric like OEE. All companies want to reduce rework and scrap, but if the process overall is not yielding the desired return on assets or is not tied to customer demand, all those waste elimination gains may be for nothing.
Another challenge with first pass yield is determining how performance in this metric compares with peer groups and market leaders. First pass yield is not a metric that is made widely available to the public, and understanding how performance breaks down by industry is even more challenging. At LNS Research we are working to breakdown these barriers and provide drill down analytics into the performance of metrics like first pass yield by industry, geography, and company size.
Over the next several weeks we will be launching our data visualization portal providing web based access to these analytics but wanted to provide a sneak preview to the performance in first pass yield for several major discrete manufacturing industries. As can be seen by this initial data, performance can vary quite a bit from industry to industry.
Benchmark Data for Discrete Industries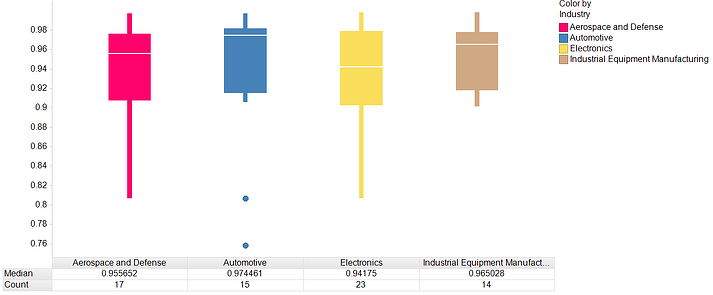 We look forward to your comments and hearing if this type of information is beneficial in trying to understand the effectiveness of your on operations.
Access this NEW eBook, "Manufacturing Metrics in an IoT World: Measuring the Progress of the Industrial Internet of Things," presents results from the fourth iteration of the biennial Metrics that Matter research study conducted between LNS Research and MESA International. It places particular focus on what IIoT means to manufacturers in the MOM space.
Gain a year of free access to new research in our IoT Research Library by completing a survey.
Tags: Manufacturing Metrics, Manufacturing Operations Management, OEE