Before discussing the future of manufacturing software, it's imperative to first understand where it's evolved from. Over the years, organizations have implemented countless purpose-built systems and applications, generally to resolve a specific set of issues. Given the breadth and complexity of today's manufacturing operations, it's common for there to be hundreds of disconnected solutions in a given company, each dealing with a specific functionality such as scheduling, quality, production execution, maintenance, and so on.
The positive of this IT diversity is that data is being collected across most functions in the manufacturing value chain. However, the negative, which is becoming quite challenging, is the amount of manual or IT work that's required for the process flows to work together and for the data to actually be consumable as information and knowledge. Bluntly, the technologies don't easily interoperate with one another - and it's materializing today in prohibitively costly integration.
There are many software suppliers that have taken on these challenges by providing database-driven, application suites. And more recently, more comprehensive and pre-integrated suites of Manufacturing Operations Management (MOM) software functionality that support broader scopes of manufacturing functionality have emerged and are being deployed.
This post intends to discuss the challenges organizations have faced with the traditional, database-centric approach to some of the currently available MOM software architectures, and will then highlight the vision that LNS Research sees as the bright future of MOM integration and collaboration software platforms and modular 'apps'.
Understanding MOM Software for Each Operational Level
To put the number of applications a manufacturing organization may have into perspective, we've created a MOM Software/Application Model. It breaks down most of the popular applications in use in each operational level, ranging from the depths of the shop floor up to software used by 'C-level' executives.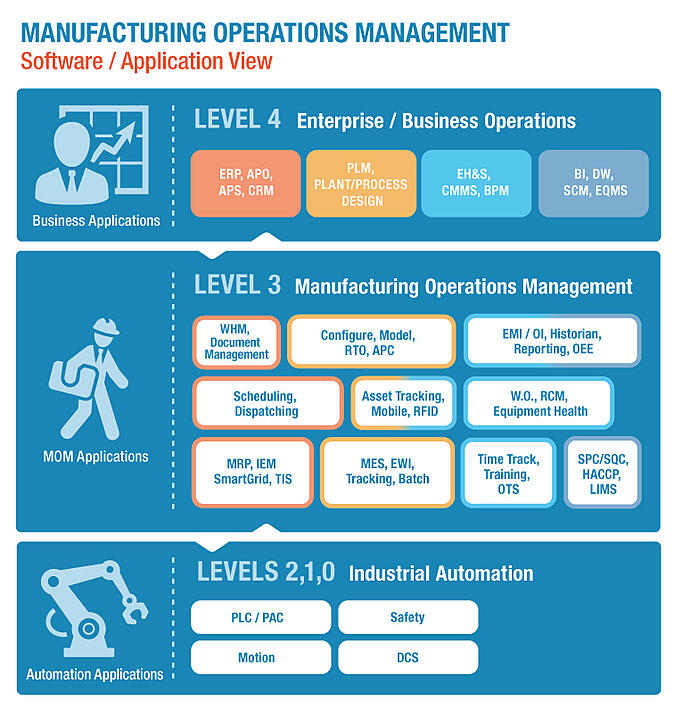 From this high level overview, the complexities of varying technologies can be seen easily. When we add in multiple instances of each across sites, divisions, and regions as well as the acquired technologies from M&A activities, the landscape is obviously something that can quickly become overwhelming.
Key Issues and Problems with Traditional MOM Software Architectures
There has been much more progress among manufacturing companies in the standardization and consolidation of ERP and financial reporting applications onto a common system than there has been with MOM applications. This has happened for a number of reasons, but one of the most significant is the previously mentioned wide range of applications that have been implemented over time without a long-term, strategic consideration of how that application would impact the overall IT architecture that spans business, manufacturing, and automation processes and people.
MOM applications tend to be in use for decades and often, IT organizations are not even aware of the complete inventory of applications that are deployed deep within the plants. Today, many companies are faced with a complex application landscape that has resulted in a variety of hurdles. These include:
Multiple databases and configuration tools that don't communicate with one another
Difficulty expanding functionality given existing and disparate implementations
Inconsistent user interfaces and visualization tools
Difficulty for vendors to rapidly develop and evolve functionality
Traditional approaches are not comprehensive and agile enough to support today's and tomorrow's manufacturing strategy challenges
What Will Future Manufacturing Software Platforms Look Like?
Newer platform-based architectures have incorporated open standards-based integration and collaboration capabilities at their core. These platform-based offerings provide underlying software services that enable a highly modular solution approach that reduces the traditional challenge with duplicative functionality across a broad set of available MOM software 'apps.' By having a common services approach for all MOM applications to integrate to Enterprise and Industrial Automation applications, this greatly eases data/information and workflow integration across all software domains in the manufacturing enterprise.
Manufacturing operations software offerings based on a services platform approach will be much more compatible with Enterprise service bus technologies that are becoming prevalent in business and IT applications today. In contrast to traditional, monolithic database-centric architectures described earlier, modern platform-based architectures are much better poised to support future functionality modifications and enhancements. They can also readily scale from small, single plant applications to large on-premise or cloud-based enterprise applications.
The Vision of a Holistic Manufacturing Operations Management Platform

While full MOM functionality, as depicted in the LNS MOM Software/Application Functionality Model, is not yet available as a single comprehensive packaged offering, we see the market heading in this direction. Because of advancements in technology as well as needs by users, many solutions have been built upon vendors' original core offering database architectures. As this has occurred, the shortcomings of the original architectures are starting to become apparent, prompting the need for next-generation manufacturing software platforms.
Future blog posts will detail the MOM Platform Services that are needed to support the full range of MOM application functionality described in the infographic above. In the meantime, LNS Research is interested to speak with any executives or business leaders who have experience with the challenges of juggling multiple applications, and are moving towards a more comprehensive and unified MOM solution, or other manufacturing technology related issues that might strengthen our related research.
You might also be interested in:
Top 6 Challenges in Electronics Manufacturing
Manufacturing Metrics: First Pass Yield Benchmark Data
---
All entries in this Industrial Transformation blog represent the opinions of the authors based on their industry experience and their view of the information collected using the methods described in our Research Integrity. All product and company names are trademarks™ or registered® trademarks of their respective holders. Use of them does not imply any affiliation with or endorsement by them.