Here at LNS Research, we've spent the past couple of years researching the most immediate and pressing manufacturing and operational issues that organizations face today. Our research and analysis, combined with discussions with industry-leading executives, has led to a wellspring of valuable data and analysis in the areas of enterprise quality management, sustainability, and manufacturing operations management.
As our breadth of research offerings grows, we're proud to announce our new Manufacturing Operations Management (MOM) Research Library, which contains several publications and resources targeted at executives seeking to better align their business and manufacturing goals and integrate systems, processes, and people to achieve operational excellence.
Below, you'll find the areas covered by the MOM Research Library and some of LNS's most recent publications on these topics.
MOM Research Coverage Areas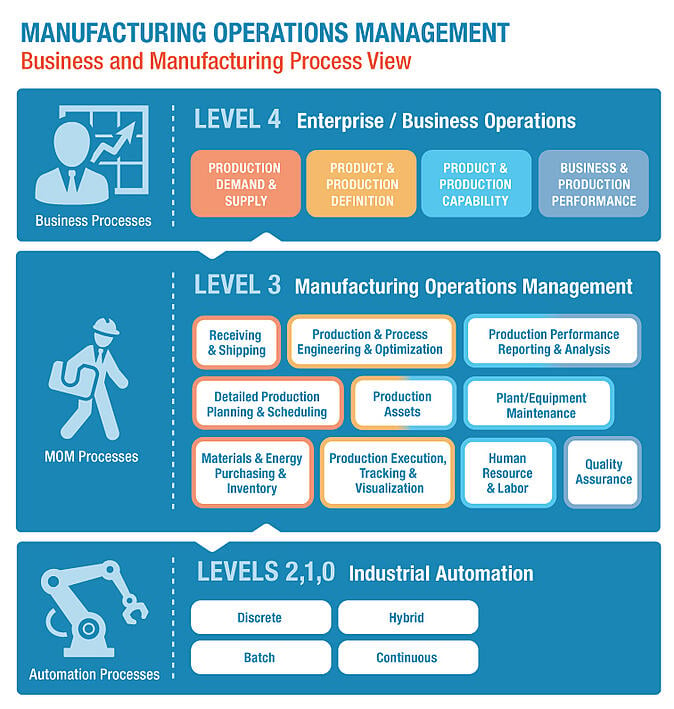 The MOM Research Library focuses on emerging processes and technologies in the manufacturing operations space and the ways that today's diverse organizations can best harness these to meet specific objectives. This includes information on how to articulate and deploy new strategies, impact business and manufacturing key performance indicators (KPIs), and integrate systems and people across the enterprise to optimize business performance.
LNS has developed an extensive survey designed for professionals responsible for setting direction and making key manufacturing operations decisions. In exchange for creating an account and taking the survey, respondents will receive membership to the MOM Research Library for exactly one year. The survey responses will serve as the foundation for future 2013-2014 MOM research papers that will be added to the library.
To take the survey and gain access to the growing wealth of MOM research available, follow this link or click below.
Manufacturing Operations Management Publications
Best Practices Guide: Manufacturing Operations Management
Though the MOM market has already shown great potential, and, in many instances, proven its ability to accelerate business performance, it's a space that still requires significant clarification and education. When used effectively, this collective set of MOM applications enables organizations to address the toughest business and manufacturing challenges with a holistic approach.
This Best Practices Guide gives executives an in-depth understanding of the specific strategies and technologies that have been integral to manufacturing operations in the past, as well as a comprehensive view of the future capabilities of MOM services platforms and modular 'apps.'
The Evolution of Manufacturing Software Platforms: Past, Present, and Future
Traditionally, manufacturing organizations have primarily leveraged technologies that focus on specific functional areas within an IT framework. However, the ever-increasing complexity of user needs and lack of integration between systems communicating those needs has served as a catalyst for rapidly increased development and implementation of holistic MOM software solutions.
This report gives an in-depth contrast and analysis of current MOM architectures versus emerging MOM services platforms, future trends on the horizon, and actionable steps for executives looking to learn about or invest in more modern and effective software solutions.
Aligning Business and Manufacturing Goals for Greater Profitability
When organizations fail to align their corporate and manufacturing goals effectively, inefficiencies and significant unrealized business value are usually the result. In maximizing profit, it is essential for companies to view the alignment of manufacturing operations capabilities as integral to an overarching strategy. This report provides a guide for executives on how to align the two, with details on implementing shifts in company culture, workforce incentives, and processes, as well as how to leverage specific MOM software functionality to better manage operations in real-time.
Future MOM Research Reports
In the coming year, LNS plans to publish several additional reports and resources to help executives improve their organization's manufacturing operations management. Areas of focus include the following:
People
Organizational challenges for MOM success
Evolving roles of Operators, IT & Engineering professionals
Capturing knowledge & expertise of aging production workers
Process
Integrated 'Business to Manufacturing' process management
Enterprise-wide materials & product traceability
Real-time decision making processes
Technology
Business, Engineering & Automation Application Integration
Integration & Collaboration Platforms
If you are interested in participating in this ongoing research, sign up below to take the MOM survey today.
Categories: Manufacturing Operations Management (MOM)