At a high level, what are most industrial companies focused on? Although there are a number of areas, one that stands out is improving operational costs. Both internal and external stakeholders are looking closely at revenue, earnings, and so on, adding pressure to not only maintain current performance but also continuously improve it. The question remains, however, how do you identify areas for improvement especially after taking care of the low-hanging fruits?
Many executives are answering this question by placing increased focus on industrial energy management (IEM). They're finding that bottom line growth can only be achieved if operations are efficient and harmonized with energy and other sustainability-related initiatives. Though, this highlights a significant challenge: the lack of visibility into data due to disparate legacy manufacturing IT environments. As a result many find difficulty in making measureable improvements toward these initiatives.
To address these challenges and foster an environment for continuous improvement, market leaders are beginning to invest in Energy Intelligence software. This post aims to define Energy Intelligence, discuss how it fits into the broader IEM software landscape, and touch on its role in realizing measureable improvements toward strategic iniatives.
What is Energy Intelligence Software?
Broken down into three distinct areas – data collection, visualization software, and analytical tools – Energy Intelligence is helping companies turn overwhelming amounts of big data into operational insights. It helps decision markers understand energy's role in operations across procurement and production. Companies leveraging Energy Intelligence are better able to make buy/produce decisions for energy and operations as well as for energy efficiency projects.
With the ever-increasing complexities of products and processes as well as reliance on the global supplier network to remain competitive, it's no surprise that organizations have mammoth amounts of data to consume. While the data needed to make measureable improvements toward sustainability and energy management initiatives is generally collected in one way or another across the organization, its sources are often too distributed and disconnected to provide actionable and consumable information.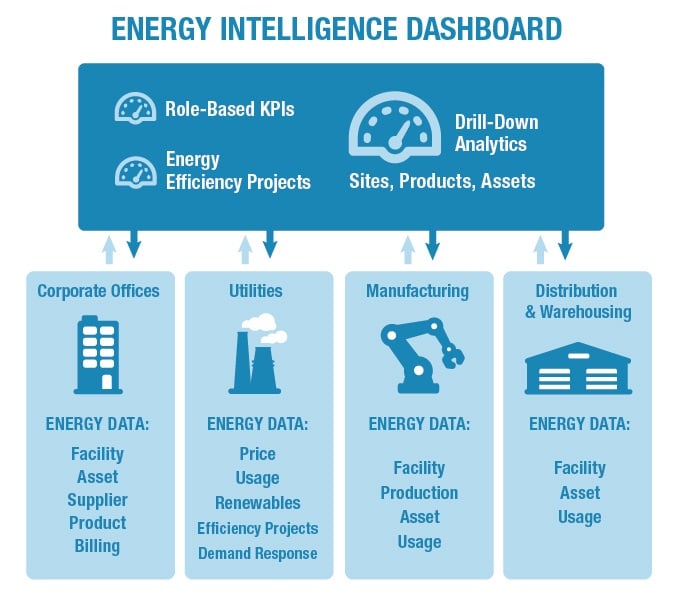 Alongside the increasing complexities of operations, the challenge of too many data sources and systems can be sourced to past investments in manufacturing operations management (MOM) software and automation capabilities. Although these investments typically span across the enterprise, they often don't collect and manage energy data in the context of operations. The good news is that the data is there, but there's a gap between it and the right software in place to drive better decision making for energy and operations. This gap can be filled by Energy Intelligence.
Energy Intelligence's Role in the IEM Software Landscape

To fully grasp the concept of Energy Intelligence, it's important to understand how it fits within the broader IEM software landscape. LNS Research identifies three key areas of IEM software: procurement, use, and reporting. The IEM software model provides executives and those responsible for making energy-related decisions a thorough understanding of how energy as well as data flow from procurement through production.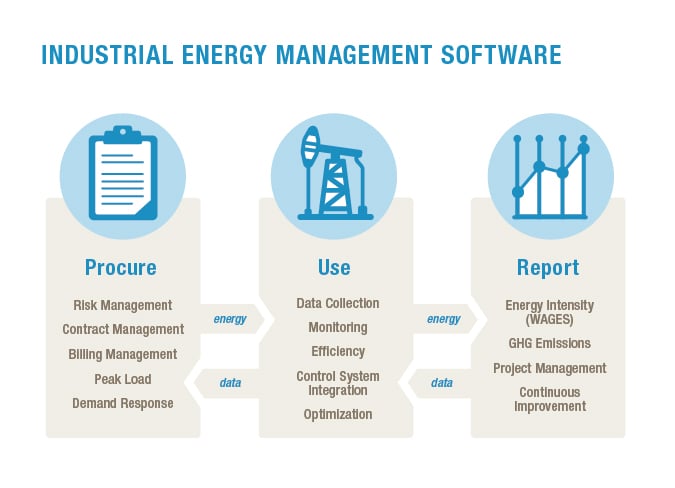 Energy Intelligence provides a strong connection between energy use and other key data sources so decision makers can leverage drill-down analytics to make timely production and energy-related decisions at the speed of business and manufacturing. By bringing together energy and production data, people can easily analyze energy-related data by process or product and, as we wrote about previously, even allocate energy to the bill of materials. It's important to understand that there's no one solution that delivers everything in the IEM software landscape, and Energy Intelligence is critical for having the right analytical capabilities.
Enabling Continuous Operational Improvements with Energy Intelligence
Continous operational growth is something every organization is striving for, but, for many reasons, can have difficulty achieving. Through the use of visualization and analytics, decision makers can analyze the more finite details that are often overlooked in broader energy and sustainability-related iniatives. Market leaders are leverging Energy Intelligence to make progress toward these initiatives, which is translating into improved operating margins and long-term profitability.
With many large companies having dozens and even hundreds of facilities around the world, it's often the marginal gains in projects such as improving energy efficiency that end up signficantly impacting the bottom line. For a much deeper dive into Energy Intelligence, follow the button below to LNS's Top Strategies for Energy Intelligence eBook.
You might also be interested in:
Industrial Energy Management (IEM) Best Practices Guide
Early Findings in LNS's Industrial Energy Management Research
---
All entries in this Industrial Transformation blog represent the opinions of the authors based on their industry experience and their view of the information collected using the methods described in our Research Integrity. All product and company names are trademarks™ or registered® trademarks of their respective holders. Use of them does not imply any affiliation with or endorsement by them.