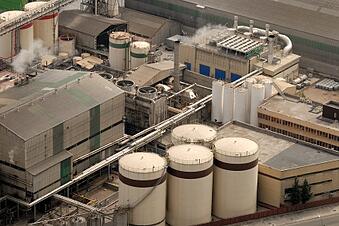 By now many companies understand the potential benefits that can stem from implementing manufacturing operations management (MOM) software applications. The space is maturing, technology is advancing, and the benefits will only increase as solution integration capabilities, mobility, user interfaces, and other aspects progress.
Although automating, centralizing, and standardizing processes can improve performance, the reality is that it all starts with a successful implementation of the right solutions. The MOM software vendor landscape is vast and one size definitely does not fit all. The effectiveness of an implementation is heavily dependent on decision makers selecting the right partners for their needs.
But how do you make the right decision? In this post, we'll examine the top criteria today's companies are focusing on to narrow the MOM landscape to vendors and solutions that meet their needs.
Dissecting Manufacturing Operations Survey Data

Launched in July 2013, the 2013-2014 LNS Manufacturing Operations Management Survey was created to identify trends surrounding business processes, manufacturing culture and strategy, MOM technology adoption, and other topics that are important to business leaders. So far it's been completed by 150 executives and manufacturing decision makers across a broad range of industries and company sizes.
In one survey question, we asked respondents what criteria were most critical for selecting their company's MOM software vendor. Survey respondents were asked to select their top 3 (in no particular order) from a list of 10 criteria. The graph below shows the frequency with which each of the possible criteria were selected as one the top 3 for selecting manufacturing software. The aggregate results actually showed four criteria that stood above all of the rest.
As can be seen in the graph below, perhaps not surprisingly, companies focus first and foremost on selecting software that most correctly matches functional requirements, with 49% of respondents selecting this criterion.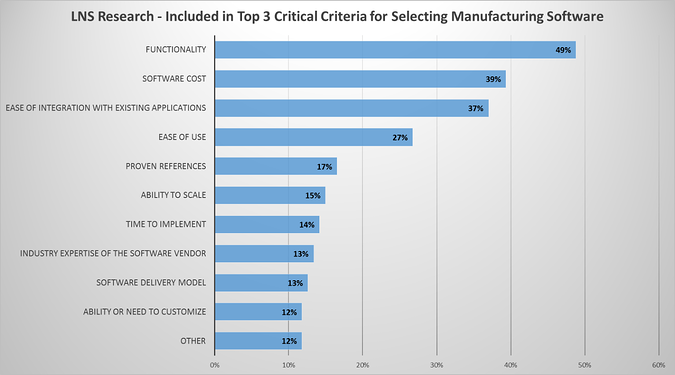 With the high degree of competition in today's global economy, any software has to be competitively priced, so software cost is the next most popular criterion, gathering 39% of responses. Though costs are clearly top of mind, we saw it as a positive that this response fell behind functionality. After all, software is implemented to execute its designated function effectively; therefore, the ability to do so is being prioritized over cost.
Ease of integration with existing applications was the next most popular criteria at 37%. Every company has an existing IT and application landscape that any new software needs to readily fit into. This criteria can greatly impact the initial and long-term success when introducing new software.
The aggregate survey results put the fourth highest criteria importance, with 27%, on "ease of use." LNS Research observes that the bar on this criterion is set very high today, as manufacturing software users expect intuitive user interfaces specific to individual job roles and responsibilities. People are accustomed to smart phones, tablets, and personal computers that are becoming more intuitive to set up and navigate with each generation release, and this expectation has carried over to their expectations for manufacturing software user experiences.
Other less critical but still important criteria for manufacturing software comparison include proven references, ability to scale, time to implement, industry expertise of the vendor, software delivery model, and the ability or need to customize.
Additional Results & Key Observations
In addition to questions about specific criteria, in the survey, we also asked respondents which MOM software selection approach they preferred to take.
As can be seen in the pie chart below, nearly half (48%) of respondents prefer to choose their manufacturing software vendor and integration services together/at the same time. Sometimes the software vendor will serve as the primary integration services provider, and sometimes not. But experience has shown us that the choice of implementation partner is every bit as important as the software selection.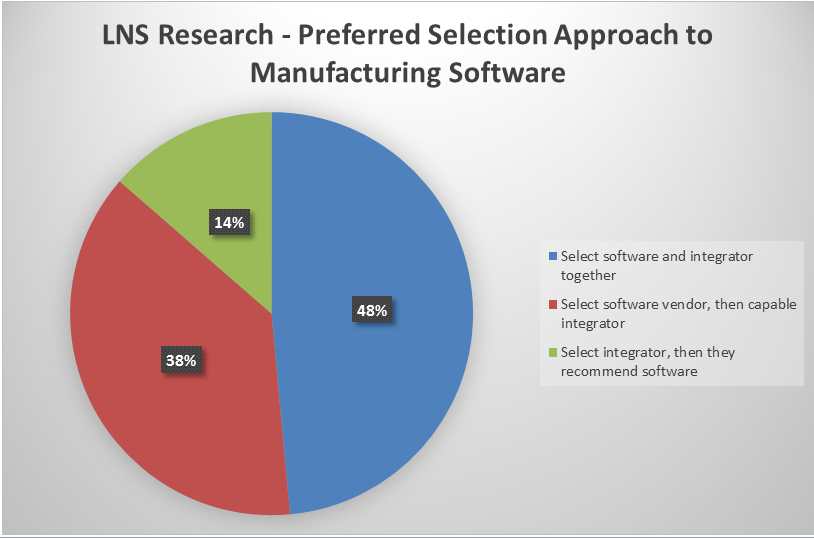 Thirty-eight percent of respondents prefer to select the software vendor first, then a services provider after-the-fact that is capable with the chosen software. Only 14% of respondents are leaving the software selection primarily to their trusted integration partner. We see this as an indication that the software solution selection process is really emphasizing the software itself, and the top software evaluation criteria of functionality, cost, ease of integration, and ease of use.
Make Sure to Do Your Research

LNS's MOM Solution Selection Guide can assist companies looking across all of these critical criteria with summaries of important evaluation information across 20 leading software vendors to help manufacturers create or narrow down their short lists. With software functionality being a top concern, the relative existing and future strengths of vendors across 25 different manufacturing application functions are summarized within the guide.
---
All entries in this Industrial Transformation blog represent the opinions of the authors based on their industry experience and their view of the information collected using the methods described in our Research Integrity. All product and company names are trademarks™ or registered® trademarks of their respective holders. Use of them does not imply any affiliation with or endorsement by them.