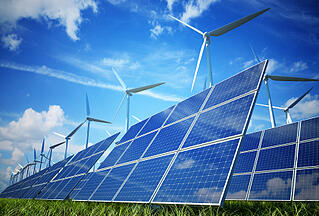 The increasing importance and relevance of industrial energy management (IEM) is causing many executives to refine existing operational excellence models. Market leading organizations are realizing the benefits of strategically aligning people, processes, and technology with financial, operational, and environmental objectives. For the technology piece of this equation, LNS Research places considerable focus on IEM software.
In post number one of our three part series on LNS Research's Industrial Energy Management Software Model we discussed energy procurement. We noted on how the effective management of energy procurement requires strong functionality in risk management, contract management, billing management, peak load management, and demand response. In a similar manner, this post will provide a deep dive into the usage side on IEM software. The final post of this series will focus on reporting.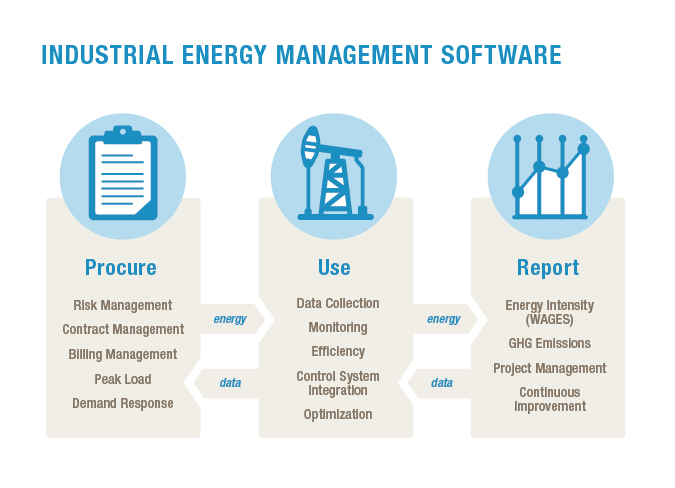 Usage Functionalities in IEM Software
Successfully managing the flow of energy throughout an organization requires communication and collaboration from the shop floor to the top floor. There are a number of important energy use functionalities, but we'll focus on the five main ones here: data collection, monitoring, efficiency, control system integration, and optimization.
Data Collection
Strong data management capabilities are the foundation of IEM Software. Success in this area requires both a robust data model and data acquisition capabilities. Unfortunately, both of these are challenging for companies in the industrial space. For data models on the shop floor, complex relationships between data sources and business processes, in addition to the need for granularity with time series is difficult for software providers with even decades of experience.
At the enterprise level, data acquisition requires the ability to manage both financial data from billing systems and usage data from meters. Additional ability is needed for balancing this data against actual shop floor data. IEM software provides technologies for utilizing collected data on the shop floor as well as the top floor. However, it typically requires a strong integration capabilities for connecting multiple sources from the machine level up through enterprise systems.
Monitoring
Visualizing and tracking performance over time is the primary function that most IEM software solutions deliver. Companies today need the ability to track baselines and targets for energy performance. From a plant or facility point of view, this can be focused at the system or unit level. Some companies are also starting to incorporate changes in energy consumption as a leading indicator in predictive maintenance programs.
From an enterprise perspective, companies are focused on monitoring energy performance at an aggregated level, looking at plants, products, or other facilities. For monitoring capabilities there are a few key capabilities that industrial companies should look for, namely a monitoring solution should be role-based, event-based, web-based, and mobile. It's important to be able to deliver both dashboards and alerts to the right decision makers at the right time and through the right platform.
Efficiency
In the industrial space, efficiency is generally where ROI is achieved and corporate sustainability targets are hit. Line of business executives have always been focused on productivity but energy has not always been connected to production goals. There are two main ways companies are focused on energy efficiency. One is around the amount of energy consumed by a particular asset. The other is around measuring the amount of energy needed to drive a dollar of revenue or the amount of energy needed to produce a pound of product.
With visibility into the energy intensity of an operation, industrial companies can begin to understand how producing more or less product or running a facility more or less efficiently can impact energy efficiency and intensity. For an effective energy efficiency software solution, it takes a strong monitoring solution as described above, but it also takes a strong analytical layer on top of it. The final important area of energy efficiency software is the financial analysis tools that help evaluate capital projects and hurdle rates for investments.
Control System Integration (OPC)
Control System Integration is moving beyond just data collection to closed-loop control. It's one thing to capture energy consumption in a data historian or send an email when a control limit is violated. But it's different to build intelligence into the control system based on energy consumption and other market forces like demand for products and energy pricing. Much of the work going on today around control system integration is happening as industrial automation vendors move to Industrial Ethernet technology that incorporates multiple modes of control, including drive control, motion control, safety control, and energy management.
Optimization
Production processes can be incredibly complex with multiple stages and multiple variables impacting yields and productivity. For many years, companies have moved to implement Advanced Process Control (APC) which provides real-time predictive control of granular production processes through the use of multi-variable algorithms. When these models include energy sources, energy consumption, and energy costs, the benefits to efficiency and engineering design can be dramatic.
The challenge many companies have faced with APC in the past is keeping models current and accurate to the plant. The more specific the model the better. However, it also has to be easy to search for models and update models overtime, which has been an area of investment for many APC vendors today. Efficiency for the time of valuable engineering resources like chemical engineers and process engineers can be a key differentiator for APC vendors and significantly impact ROI beyond just energy or raw material savings.
Using IEM Software to Manage Use

Managing and optimizing the use of energy is likely the most important function of IEM software. Companies need to have strong capabilities in data collection. This information then needs to be translated into actionable intelligence through improved efficiency and optimized production processes with monitoring and control system integration.
You might also be interested in:
A Guide to Understanding Energy Management Systems
4 Reasons Why Industrial Energy Management Software Fails