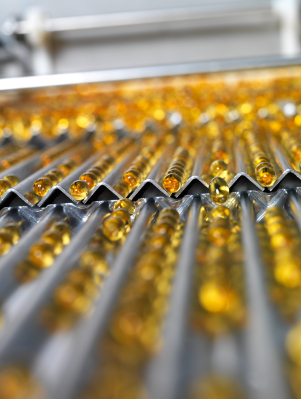 Life sciences organizations face a uniquely competitive environment. Each needs to maintain compliance while continuously improving operating margins and introducing new products. Because of this, it's vital that quality, risk, and Environment, Health, and Safety (EH&S) efforts are aligned and then optimized with key resources: people and leadership, business processes, and supporting technologies.
The seamless integration between quality, risk, and EH&S that's needed by life sciences companies is often met with a number of hurdles. To overcome these hurdles, there are various strategies around key resources that organizations have been employing. From our own market analysis, it's apparent that the strategies are moving organizations in the right direction, however, there are still several gaps.
This post will highlight the trends LNS is seeing in the life sciences industry, touching on the positives as well as the areas for improvement in current strategies.
Key Trends Around People, Processes, and Technology in Life Sciences
People and Leadership

Organizationally, many companies are starting to bring together quality and EH&S. In our discussions with industry leading executives, in addition to our own analysis of the market, we're seeing this connection materialize in two major trends, Director or VP level roles that are now responsible for both quality and EH&S as well as IT roles that are bringing together the management of these two areas on a common system.
A number of great examples can be found in a recent executive case study series that's been published to our research library regarding quality management strategies. The series discusses centralized and decentralized quality management, and in these approaches many companies are combining key areas such as EH&S that deliver synergies with quality management. We've also seen this trend at recent user conferences for held by leading enteprise quality management software (EQMS) vendors.
Business Processes
Understanding and managing risk is an important capability for improving performance in both quality and EH&S. It helps companies focus resources on what is most important and to make better decisions in the face of uncertainty. Unfortunately, when a company has even a minor lapse in process execution for either quality or EH&S it can leave life sciences organizations open to high levels of operational risk, which more often than not does little to help long-term profitability.
To address these potential pitfalls in business process, many companies are starting to use a single operating model to bring together risk, EH&S, and quality management processes. Fortunately, these processes have similar structures and ISO standards; making it easy to benefit from the overlap. Moving to these standards is enabling organizations to capitalize on synergies of how they capture incidents/non-conformances and run the investigation, root cause analysis, and corrective and preventive action procedure.
Technology Architecture
A single view of incident/non-conformance management is an important part of effectively managing risk, but many companies still carry this out with disparate systems. This is not all that surprising. The LNS Research 2012-2013 Quality Management Survey sheds asked executives which EQMS functionalities their organizations currently had in 2012 and, as shown below, risk management was one of the least adopted functionalities.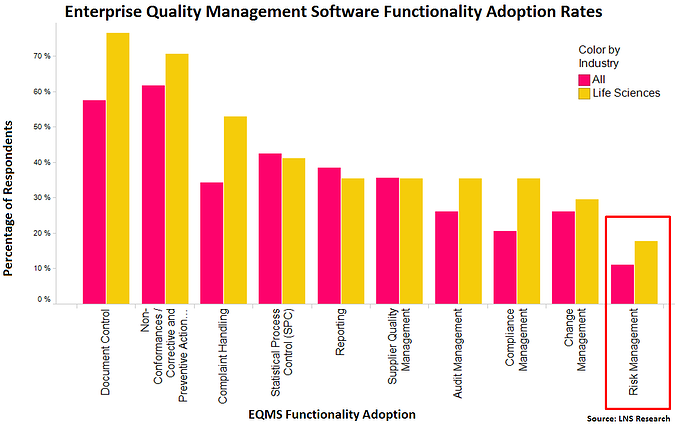 When it comes to risk, quality, and EH&S, companies are making great strides in the realm of people and processes. However, in terms of technology capabilities, there is a notable gap for life sciences. While other industries are building a unified information management system for managing the quality of processes and taking advantage of emerging technologies such as EQMS, life sciences seems to have been slow to adopt.
Integrating Quality, Risk, and EH&S in Life Sciences
The issue with leveraging technology in the life sciences industry is not going away. It's only becoming more relevant and imperative for success. On May 23, LNS Research's President and Principal Analyst, Matthew Littlefield, will be participating in a webinar discussing the role of technology in life sciences. With the use of benchmark data from LNS's 2012-2013 Quality Management Survey, he will provide an in-depth analysis of the market and discuss best practices for building an integrated quality, risk, and EH&S architecture.
Tags: Enterprise Quality Management System (EQMS), Risk Management