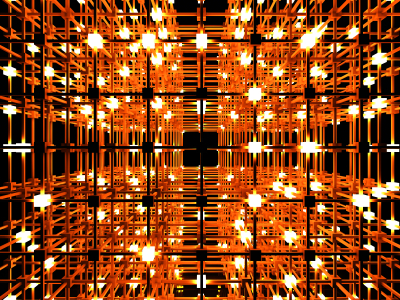 With increasing energy prices, increasing pressure for operational cost reduction, and major demographic shifts impacting the political and policy sphere, the focus on effective energy management is only increasing. Industrial companies today are being forced to address this trend and focus on cutting energy consumption wherever possible.
To achieve this, visibility into energy expenditures through energy intelligence is crucial, and a key metric for providing insight is energy intensity. This metric measures the amount of energy used to produce a unit of product—for example, the kWh per car or kWh per pound of food expended.
In certain industries, energy intensity can account for more than 50% of the costs of production, so even a small reduction in energy intensity can result in a substantial reduction in production costs, which ultimately flow to the company bottom line. Further compounding its value, the strategic reduction of energy can not only significantly reduce costs, it can also drive increased production performance, and subsequently, much greater efficiency. Though variable by industry, the Global Industrial Energy Efficiency Benchmarking Report, published by the United Nations Industrial Development Organization, identifies substantial potential for improvement across industries.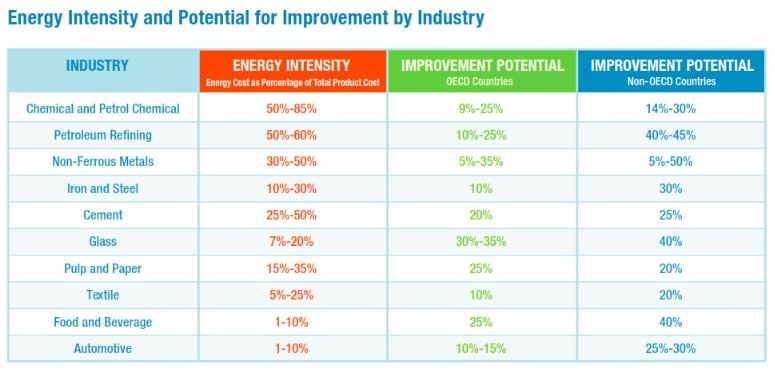 In a recent LNS Research survey of over 250 industrial companies, respondents were asked to report the improvement of energy intensity of operations.
Across respondents there are a number of critical people, process, and technology factors that showed dramatic differences in the improvement of energy intensity year over year. Here are five key areas toward success:
1.) Implement an enterprise wide energy management program. An enterprise wide energy management program involves integrating the procurement, use, and reporting of energy across the enterprise. All tightly interrelated, this involves the key alignment of people, processes, and technology, supported by a strong metrics program. This all starts with gaining the critical executive buy-in for this type of program, and by forming a key, a cross-sectional team of relevant stakeholders to eliminate informational silos around energy. Survey respondents that had established an enterprise program showed a 75% higher reduction in energy intensity respondents lacking these capabilities, at 7% improvement vs. 4% improvement.
2.) Establish enterprise-wide processes for balancing energy procurement and consumption. There are a number of already established energy management programs such as ENERGY STAR, ISO 50001, and SEP that carry built-in best practices for helping companies with methodologies like "Plan-Do-Check-Act." Additionally, having enterprise-wide processes in place can help organizations balance production and energy prices through peak load shedding. Survey respondents with this capability more than doubled the energy intensity of companies that had yet to plan these capabilities at 9% vs. 4%.
3.) Automatically collect energy data at the production asset level. The deployment of energy intelligence technology is central to bringing this strategy to a functional level as it connects data among utilities, manufacturing plants, distribution & warehousing, and the corporate office. Gaining visibility into production asset data through machine integration allows for improved maintenance and monitoring of energy consumption. At the corporate level it also allows management to compare the leading and lagging facilities and production lines. Survey respondents with this capability also reported a 9% increase in energy intensity vs. 4% for those companies that had not planned to implement it.
4.) Develop ability to monitor and respond to energy at the production asset level. Related to above, the ability to monitor production assets and machinery through the use of a data historian allows businesses to send out automated alerts to shop-floor personnel if the machinery is not performing to condition-based maintenance (CBM) levels, or other pre-determined business rules. Having visibility into live equipment status also enhances the efficiency of operations on the shop floor. Survey respondents with this capability in place have double the rate of energy intensity reduction vs. those that have not planned to implement it, at 10% vs. 5%.
5.)Enable corporate level roll-ups of energy data. Being able to roll-up energy data around an organization's core areas if key to continuous improvement initiatives. By creating a dashboard that gives role-based visibility into key performance indicators (KPI) from the shop-floor to the top floor, it greatly enables executive management's ability to make sure things are happening according to overall plans, as well as better understand where those plans need to be tweaked for maximum success. Survey respondents with this capability with this capability had a 90% higher improvement in energy intensity reduction (9% vs. 5%) than organizations who did not have this capability in place.
Aligning the Key Areas Across the Enterprise
Undertaking an enterprise wide energy management program is a large undertaking that requires the alignment of people, processes, and technology, and it needs to start from the top down. Once management has identified the target areas, technology solutions that support the integration of energy intelligence across utilities, manufacturing plants, and distribution & warehousing is key to obtaining the type of analytics that deliver role-based information to drive agile and effective decision making. As the data shows, companies investing in these capabilities today are reaping huge benefits in energy cost savings, and as the world becomes further recourse-constrained with the rise of populations and standards of living, effectively managing energy management at the enterprise level will only become more critical.
Register for the Webcast
Join me on Tuesday, March 24 at 1:00 PM EDT for a free webcast where I'll dive much deeper into the data backed best practices and proven measures for success in improving energy intensity in operations by 50% or more. Joining me will be Safi Oranski, VP of Business Development from device level energy management solution provider Panoramic Power. Safi will explore use-case scenarios where manufacturers have improved production performance and gained operational visibility with granular, device level energy data that has proven to have dramatic effects on the following areas:
Increasing production yields
Optimizing Overall Equipment Effectiveness (OEE) and reliability
Reducing waste by monitoring and measuring "idling" assets
Calculating cost of production per equipment/production line
---
All entries in this Industrial Transformation blog represent the opinions of the authors based on their industry experience and their view of the information collected using the methods described in our Research Integrity. All product and company names are trademarks™ or registered® trademarks of their respective holders. Use of them does not imply any affiliation with or endorsement by them.