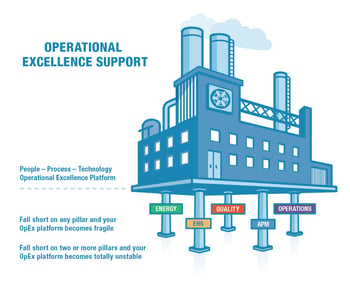 Data from LNS's surveys related to asset performance management (APM) and the Industrial Internet of Things (IIoT) all point to improvement in operational performance as the key driver for investment in those two areas. LNS believes that the pursuit of better performance is captured in our definition of Operational Excellence. Operational Excellence is the second step of LNS's Digital Transformation Framework, following setting Strategic Objectives for Digital Transformation and the precursor to defining an Operational Architecture. The biggest mistake that most companies make is that they don't take the time to establish what Operational Excellence means to their business. Even those that do have an idea of what Operational Excellence looks like for their business still risk making critical mistakes when trying to capture that definition and communicate it throughout the organization. Failing to pursue Operational Excellence is a recipe for mediocrity. Don't make these five mistakes in your pursuit of Operational Excellence.
What Are the Five Mistakes to Avoid?
MISTAKE #1 Thinking Operational Excellence is Just Another BPM Approach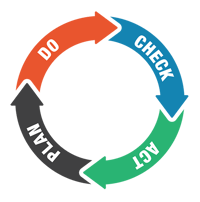 Business process management (BPM) has been a discipline, with roots going back almost 50 years, that has been at the forefront of initiatives to make business more efficient since the 1990's. The idea is to improve the processes and workflow of an organization using technologies that promote consistency and efficiency. These initiatives are also frequently referred to as business process improvement initiative (BPI) projects. Lean and Six Sigma are two such BPI approaches. Total Quality Management (TQM) and Total Productive Maintenance (TPM) are two other programs that have evolved from the Lean movement; many often consider them BPM or BPI approaches.
The mistake many companies make is in equating an Operational Excellence drive as being a BPM or BPI project or program. That's a mistake for several reasons. First, all of the programs mentioned above are focused on a specific issue or objective set or employ a limited toolset approach, think Lean or Six Sigma. Second, while the tools and methodologies associated with those BPM approaches can apply across multiple areas, they are often not optimized across the pillars equally. Third, some like Lean do incorporate the voice of the customer but others do not, and Operational Excellence must include the concepts of excellence as seen by customers, but more importantly, it needs to account for excellence by all stakeholders. Operational Excellence is more significant and encompassing than ordinary BPM initiatives, and it is ongoing, you have to constantly strive for better.
MISTAKE #2 Accepting "Good"
Even when companies have a broadly deployed Operational Excellence program, the point just raised, about needing to constantly strive for better is critical. Many BPM programs have clearly defined criteria for success and once you achieve those you are "done." Operational Excellence, when done properly is not a program or a set of measurements alone. Operational Excellence, while needing key performance indicators (KPIs) or metrics to track progress, is also a cultural endeavor. Consider any athlete - they're always striving for better performance, beating the record, even if it's their own. Companies that undertake Operational Excellence with tremendous success and business results usually pattern the journy as many Olympians -- it's not "good enough" to just match yesterday's performance, and it's not "good enough" to beat the competition. Every single day, they strive to do better.
MISTAKE #3 Defining Excellence in Unmeasurable Terms
It's impossible to know whether you are doing better without measurable parameters to evaluate performance. Criteria such as "be the best provider in our industry" have no meaning. Goals do not need to be precise, but they do need to be measurable. Saying you will be a top quintile performer in XYZ categories of performance, and lead the industry in ABC criteria is measurable and a good approach. It also keeps a business constantly striving for better. As an industry tends to improve overall, the businesses pursuing Operational Excellence then must continue to outpace the field. One way to achieve that is to define excellence in terms of performance against the industry. That might be, "Our company will reduce carbon footprint as measured in kg of CO2e per ton of product produced annually, at a rate that puts us in the top quartile of all companies in our industry," related to greenhouse gas production. The enterprise should also establish similar measures for quality, reliability and every other pillar of Operational Excellence.
MISTAKE #4 Failing to Validate With Customers
No business exists without its customers. Companies that fail to map Operational Excellence objectives against how they deliver value to customerS may seem to excel at Operational Excellence but may still fail as a business. Taking a solely internally focused view of Operational Excellence ultimately carries the risk or being extremely good at producing products or services no one wants. While internal processes result in the products or services companies deliver, the most common mistake companies make is having a solely internal view as they define and pursue Operational Excellence.
MISTAKE #5 Thinking Excellence is Constant
Throughout this article, I have discussed the need to define excellence in flexible terms so that as competitors improve, you strive to maintain your lead. This posture is one aspect of continuous improvement but not the only trap companies can fall into if they think of Operational Excellence in static terms. A much bigger risk is that the industry shifts around you. Consider this: Even the best taxi companies with the highest profits and most satisfied customers were disrupted by Uber. As organizations define Operational Excellence, they must continuously reevaluate what that means in the context of new technologies and a changing environment.
The Takeaway: Perspective is Everything
Take time to define what Operational Excellence means to your business, communicate it clearly throughout the enterprise, and set the stage properly to avoid making the most common mistakes.