We are very excited to be delivering this first blog post. It means we are well on our way to launching LNS Research and changing the way executives percieve and use industry research.
It is our belief that data is always open to interpretation, which is why we plan to become the first major technology research firm to allow clients direct access to benchmark data through our visualization and statistical tools.
Through our platform, clients will have the ability to share their experiences, learn from best practices and thought leadership in the research library, and benchmark their operations against peers through the use of our data visualization and statistical tools.
Upcoming Research Projects
2012 will be a very important first year for us and there are 5 major areas we plan on conducting research to get us started. These research areas will include the following:
Enterprise Quality Management Software
Quality has long been a focus at leading firms, however, the way companies think about quality and the way companies architect IT systems to support quality is often disconnected. In 2012, LNS research will examine how leading firms are using EQMS (Enterprise Quality Management Software) to manage quality business processes at the enterprise level and infuse quality management best practices across engineering, manufacturing, supply chain management, procurement, and service. Below is a graphical depiction of how LNS Research believes many of these leading firms are beginning to model these processes.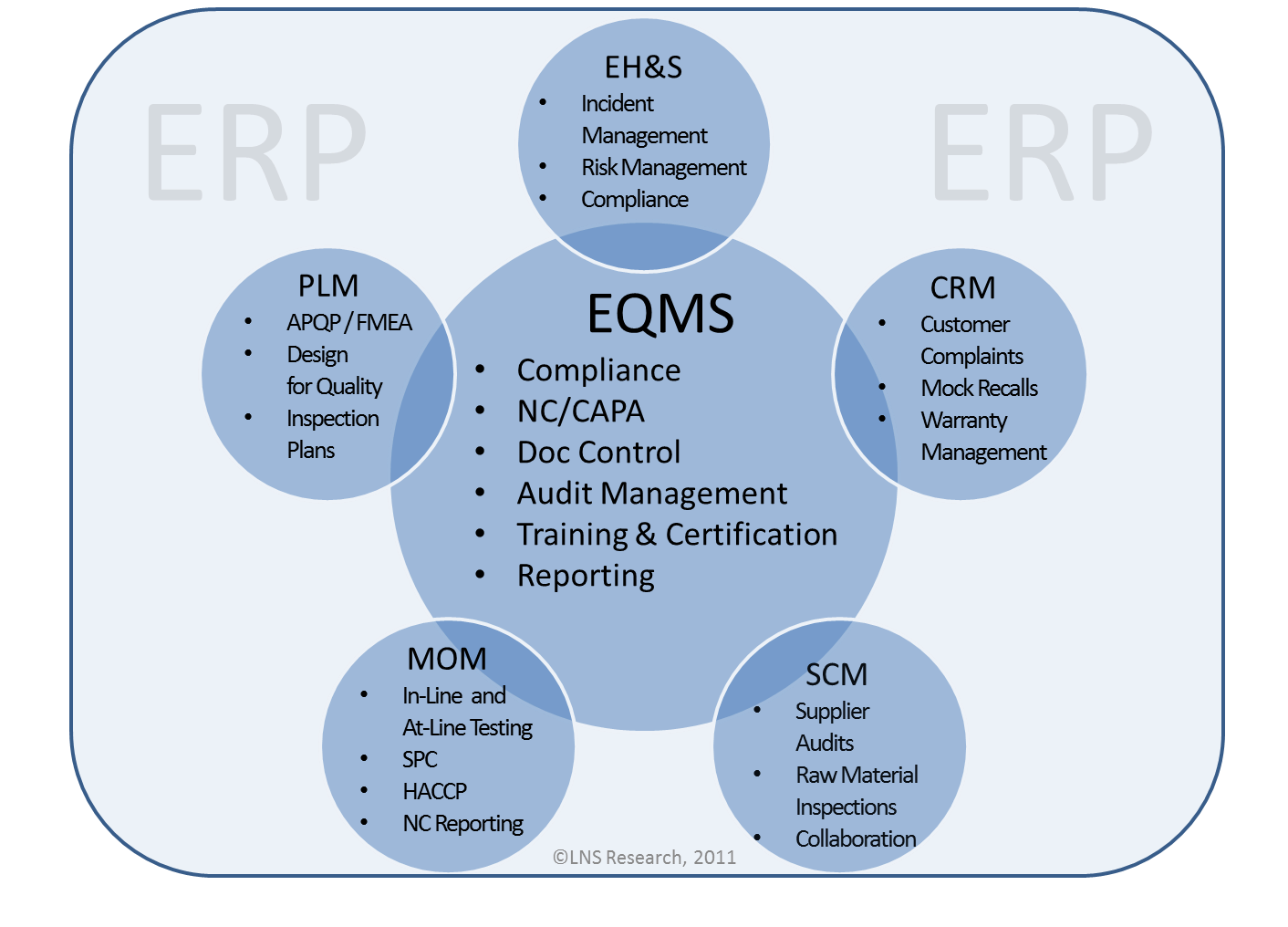 Manufacturing Operations Management
Leading firms are moving away from plant level MES (Manufacturing Execution Systems) to begin managing the entire plant network holistically. These new MOM systems are leveraging native BPM (Business Process Management) technology and unified data models to reduce the time and cost of implementations as well as provide a more interoperable and collaborative environment. This interoperability will begin to move both up and down the technology stack, with major interoperability enhancements between enterprise applications like ERP, PLM, and plant level systems like DCS, PLC, and SCADA anticipated for 2012.
Sustainability
Momentum behind corporate sustainability initiatives at many of the world's most successful companies will only continue to build in 2012. The pressure is on for these companies to deliver tangible results. It is expected that investment in technology to support these initiatives will continue to grow. Key areas of investment will include: product safety and traceability, sustainability performance management, energy management, carbon management, EH&S (Environment, Health, and Safety) and safety automation
Asset Performance Management
Asset Intensive industries continue to face intense pressure to improve Returns on Assets and Operating Margins. One of the quickest and most successful ways leading companies have accomplished success in these areas is by improving the reliability of key assets and improving the collaboration between operations and maintenance. This means companies are moving from a reactive to predictive approach in maintenance, which in turn requires improved automated data collection, statistical models for predicting failures, and the right infrastructure to share this information across large enterprise. It also involves companies investing in change management so that the right metrics, incentive, and culture are established to ensure that maintenance and production are on the same page.
Industrial Automation 2.0
LNS Research believes there has been a step change in the automation space over the past several years, requiring an entirely new approach to evaluating the value and deployment of industrial automation. Key technology trends of Industrial Automation 2.0 include the movement towards converged networks and standards, mainly involving the use of unmodified Ethernet. Additional trends of Industrial Automation 2.0 include the convergence of traditional IT and Automation networks, the use of traditional IT security solutions in Industrial settings, an increased focus on safety and energy management, and the use of a single network to manage multiple disciplines of automation. 2012 will see continued focus and refinement of the trends included within Industrial Automation 2.0.
Get Involved
We are very excited about the prospects of all these research projects. If you are interested in learning more or participating when they are launched, please share your email address with us here.
Categories: Sustainability, Enterprise Quality Management System (EQMS), Manufacturing Operations Management (MOM), About LNS Research